Sam Raimi And Marc Webb Passed On 'The Flash'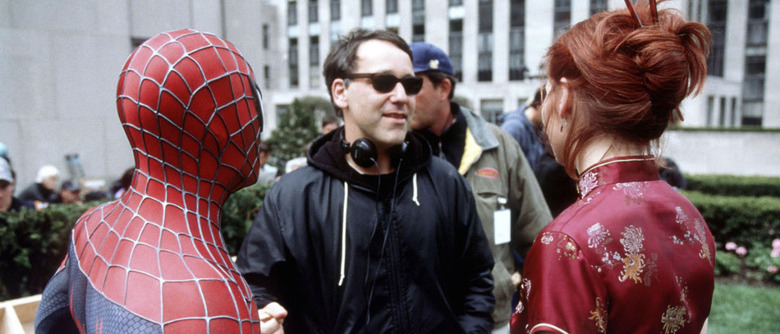 The search for The Flash director continues. Yesterday, we heard Robert Zemeckis is the frontrunner for the job, and today we're hearing two Spider-Man directors, Sam Raimi and Marc Webb, are no longer in the running. Either one of them could've replaced directors Rick Famuyiwa (Dope) and Seth Grahame-Smith (The LEGO Batman Movie), who both left the project over creative differences.
Below, learn more about what Raimi and Webb have coming up.
EW learned that Raimi and Webb have passed on the project. The outlet also reported the great Billy Crudup (20th Century Women) had dropped out of playing Barry Allen's (Ezra Miller), Henry Allen, but The Hollywood Reporter was quick to correct the story. Although there's been a delay, the actor, who appears in Justice League and in its trailer, is still on board for The Flash.
As for Raimi and Webb, their last experiences with superhero movies, The Amazing Spider-Man 2 and Spider-Man 3, didn't go too smoothly. Why they passed on the DCEU film is unknown, but they both have other projects to consider for the future.
Raimi's a director who knows how to have real fun with superheroes, and he directed one of the most personal and enjoyable superhero movies ever made with Spider-Man 2, so he sounds like a fine candidate for The Flash. If he passed, though, he probably passed for a good reason. The director has plenty of other projects on his plate, with the Bermuda Triangle movie, a remake of A Prophet, and World War III. It's been four long years since Raimi's last film, Oz the Great and Powerful. Since then, he's directed episodes of Ash vs. Evil Dead, Rake, and a memorable Chevy ad.
Webb has been pursuing more small-scale projects since his Spider-Man days. His new film, Gifted, received mostly positive reviews and has made over $21 million at the box-office. He's already wrapped another feature, The Only Living Boy in New York. Before that movie hits theaters, Webb is already shooting another film, Instinct. He's moving rather fast these days. Webb has made two movies in the amount of time it would probably take him to direct The Flash, which was originally going to be released on March 16, 2018. Perhaps we'll hear about a new release date soon.
As Warner Bros. continues talks with Zemeckis and Matthew Vaughn (Kingsman: The Golden Circle) about The Flash, there is one director who tweets he wouldn't pass on the opportunity...
I know of at least one Director who wouldn't pass. (But to be fair, he's more of a "director" than a Director...) https://t.co/LIyTI6gRu0

— KevinSmith (@ThatKevinSmith) May 17, 2017