'The Witcher' Is Coming To Netflix As A TV Series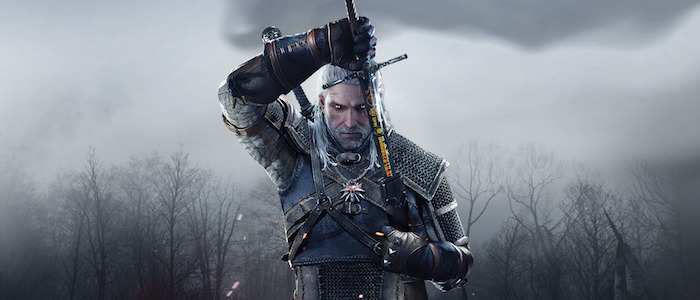 Film adaptations of popular video games are often ill-advised, with nary a successful video game movie to date. It's a good thing then, that the fantasy video game trilogy The Witcher is actually based on a series of best-selling novels by Polish author Andrzej Sapkowski, and that it will be turned into a television series rather than a film.
After years of discussions of a U.S. movie adaptation of the critically acclaimed video games, The Witcher will be coming to Netflix as a TV series.
Known collectively as The Witcher saga, Sapkowski's eight novels and story collections follow monster hunters, or "witchers," who develop supernatural abilities at a young age to help them battle deadly creatures. The New York Times best-selling books went on to spawn a wildly successful video game series in 2007, that grew the popularity of the series in the States.
Netflix is producing and developing the series with author Sapkowski as a creative consultant on the series. Sean Daniel (The Mummy franchise, The Expanse) and Jason Brown (The Expanse) will executive produce alongside Tomek Baginski and Jarek Sawko from Polish production and visual effects company, Platige Image.
In a release accompanying the news, Sapkowsi gave his blessing for the series and promised that it will stay true to his story (via ComingSoon.net).
"I'm thrilled that Netflix will be doing an adaptation of my stories, staying true to the source material and the themes that I have spent over thirty years writing. I'm excited about our efforts together, as well as the team assembled to shepherd these characters to life."
The team working on the Netflix series is the same one that was announced to be behind on movie project back in 2015. Daniel spearheaded the adaptation, but may have faced setbacks on bringing a complex, sweeping fantasy story to the big screen. Following the success of the seemingly impossible-to-adapt Game of Thrones, it seems TV may be the safest haven for a fantasy world as complex The Witcher.
Daniel and his co-executive producer Brown said about the adaptation:
"The Witcher stories follow an unconventional family that comes together to fight for truth in a dangerous world. The characters are original, funny and constantly surprising and we can't wait to bring them to life at Netflix, the perfect home for innovative storytelling."
Film adaptations of video game movies have a poor history. While some like Lara Croft: Tomb Raider or Resident Evil reach some semblance of a cohesive blockbuster movie, many others, like Warcraft or Hitman: Agent 47, miss their mark. The Witcher is no exception to this, getting a failed Polish film adaptation in 2001 called The Hexer.
But The Witcher television has the advantage of also being based on a series of successful books. Platige Image's Tomek Baginski and Jarek Sawko took note of this, adding:
"There is a moral and intellectual depth in these books which goes beyond genre. It is a story about today and today's challenges, hidden under a fantasy cover. It is a story about us, about the monster and the hero inside all of our hearts."
No planned release date for the Netflix series has been announced yet.