'Stranger Things' Wraps Filming; What To Expect In Season 2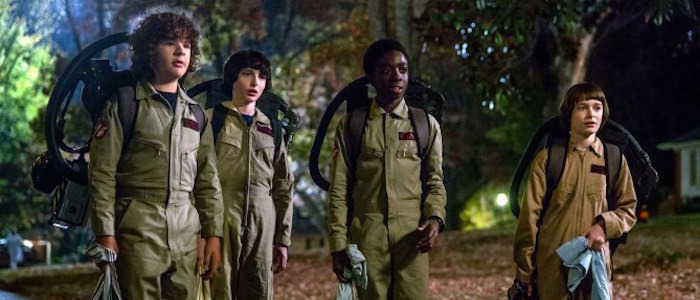 Stranger Things was one of Netflix's biggest surprise hits last year and the '80s-set supernatural series is taking its sweet time coming back to us. The genre hit by Matt and Ross Duffer won't return until Halloween (which is rather appropriate), depriving us of more Stranger Things for another five months.
But Season 2 has officially wrapped production, and some on-set interviews interviews featuring cast members David Harbour (the grizzled Chief Hopper) and Finn Wolfhard (Mike, leader of the Dungeons and Dragons-playing preteens), as well as the Duffer brothers themselves, have been released. Let's run through the highlights below! Oh, and someone on set also got a pretty cool Ghostbusters care package.
More '80s Pop Culture Callbacks
The first season of Stranger Things managed to capture the spirit of beloved '80s movies and books more authentically than the dozens of reboots that have flooded theaters lately, both in its cinematic homages and in its casting of '80s icons like Winona Ryder and Matthew Modine. While the nostalgia isn't the only thing the show has going for it, it's important enough that the second series will lean even more heavily into the '80s callbacks.
First, there was the casting of Sean Astin, star of the perennial '80s movie The Goonies, as Bob Newby, the local Radio Shack manager and Joyce's (Ryder) new boyfriend. Then there was the released stills of the core four boys in impeccable Ghostbusters costumes, which earned the attention of Ghostbusters director Ivan Reitman and original film star Dan Aykroyd, sending Wolfhard a spooky gift basket to commemorate the wrapping of season 2.
Came back to the trailer tonight to find this amazing surprise from two of the greatest Canadians ever. Thank you, @dan_ackroyd and @ivanreitman!! #staypuft4life
A post shared by Finn Wolfhard (@finnwolfhardofficial) on May 10, 2017 at 9:08pm PDT
Additionally, the show has brought on Paul Reiser as Dr. Owens, a high-ranking member of the Department of Energy who is on a "clean-up" assignment, tasked with containing the events of Season 1. Dr. Owens has been directly inspired by Reiser's company man Burke from the 1986 sci-fi horror sequel Aliens.
The Season Will Take a Lot of 'Risks'
As one of the breakout stars of last season — rising from the rank of "recognizable character actor" to become the new Hellboy — David Harbour is aware of the expectations for the second season of Stranger Things. But he promises Deadline that instead of solely relying on the nostalgia that drove much of the show's popularity, the series isn't afraid to do something different:
We're going to take a lot of risks. I think people are going to be pissed off by things. I think they are going to be elated and excited about things. It's all further in terms of going on this journey. 
There is a 'Grand Plan' for the Show
Rather than stretch out the popularity of Stranger Things, the Duffer brothers have an end goal in sight for their series. But even with an ending in mind, or a "blinking light" at the end of the narrative tunnel as they call it, they find the story constantly morphing around the characters and actors. Matt Duffer was reluctant to confirm to Deadline on its set visit that a big picture was set in stone:
"You have a grand plan, but then you discover so much cool stuff on the day. But I feel like we tend to have guard rails set up, because we do know generally where we want to go. And then you get to play inside that."
His twin brother and co-creator, Ross Duffer, admitted:
"We've learned not to fight it as much. That you had this plan for where this character was going, and then you get here and you're like, 'Whoa, I don't believe in it anymore.' ...We have a blinking light that we're headed toward."
Fans Have Already Guessed Many Season 2 Secrets
With a show as buzzy and beloved as Stranger Things, there are inevitably fan forums and theories dedicated to speculating about it. The Duffer brothers admit that all the secrets of season 2 have already been guessed by fans — though they're hidden in the tangled web of incorrect theories. So get your Stranger Things conspiracy boards back out, because now we have five months to figure out what's right and wrong.
Stranger Things stars Winona Ryder, David Harbour, Finn Wolfhard, Millie Bobby Brown, Gaten Matarazzo, Caleb McLaughlin, Natalia Dyer, Charlie Heaton, Joe Keery, and Noah Schnapp. In addition to Astin and Reiser, the second season has added Brett Gelman (Jobs), Will Chase (Nashville), Dacre Montgomery (Power Rangers), Danish actress Linnea Berthelsen, and Broadway star Sadie Sink.Stranger Things Season 2 will be released on Netflix on October 31, 2017.