'Lost In Paris' Trailer: Searching For The Aunt Who Lives In Paris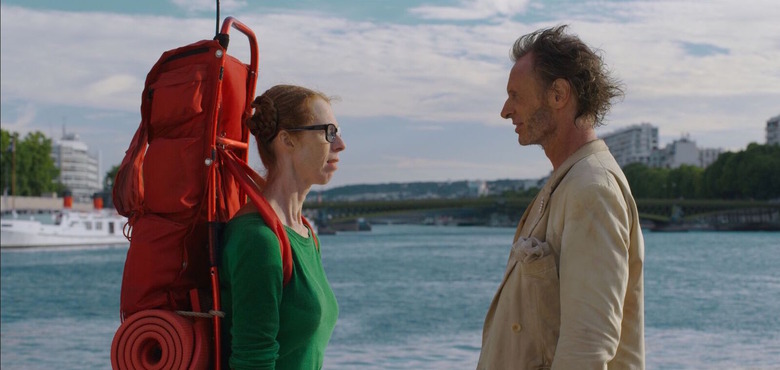 Fiona Gordon's aunt lives in Paris and she's trying to find her. Yes, that's a La La Land joke, but the premise for Gordon and fellow director and co-star Dominique Abel's whimsical, candy-colored comedy Lost in Paris doesn't do justice to the superb brand of physical comedy that the recently released trailer boasts.
Fiona Gordon's self-named character is a small-town Canadian librarian who has never been to Paris, but when she receives an alarming letter from her aging Aunt Martha (Emmanuelle Riva), she decides suddently to fly over and help her. But she soon finds herself lost and without her baggage in Paris, followed by a friendly tramp (Abel) who finds her bag.
It's physical comedy at its finest, with Gordon falling over bridges, off boats, and at one point, I think, the Eiffel Tower. Gordon studied theater and movement in — where else? — Paris, and seems to make full use of that here.
Abel and Gordon are a directing duo and married couple who have made similarly whimsical and bright films like The Fairy (2011), Rumba (2008) and Iceberg (2005). However, it was Lost in Paris that received rave reviews at the 2016 Telluride Film Festival, where it made the Official Selection.
See the official synopsis for Lost in Paris below:
Filmed in Dominique Abel and Fiona Gordon's signature whimsical style, LOST IN PARIS stars the filmmakers as a small-town Canadian librarian and a strangely seductive, oddly egotistical vagabond. When Fiona's (Gordon) orderly life is disrupted by a letter of distress from her 88-year-old Aunt Martha (delightfully portrayed by Academy Award®-nominee Emmanuelle Riva) who is living in Paris, Fiona hops on the first plane she can and arrives only to discover that Martha has disappeared. In an avalanche of spectacular disasters, she encounters Dom (Abel), the affable, but annoying tramp who just won't leave her alone. Replete with the amazing antics and intricately choreographed slapstick that has come to define Abel and Gordon's work, LOST IN PARIS is a wondrously fun and hectic tale of peculiar people finding love while lost in the City of Lights.
The trailer comes with an appropriately quirky poster too: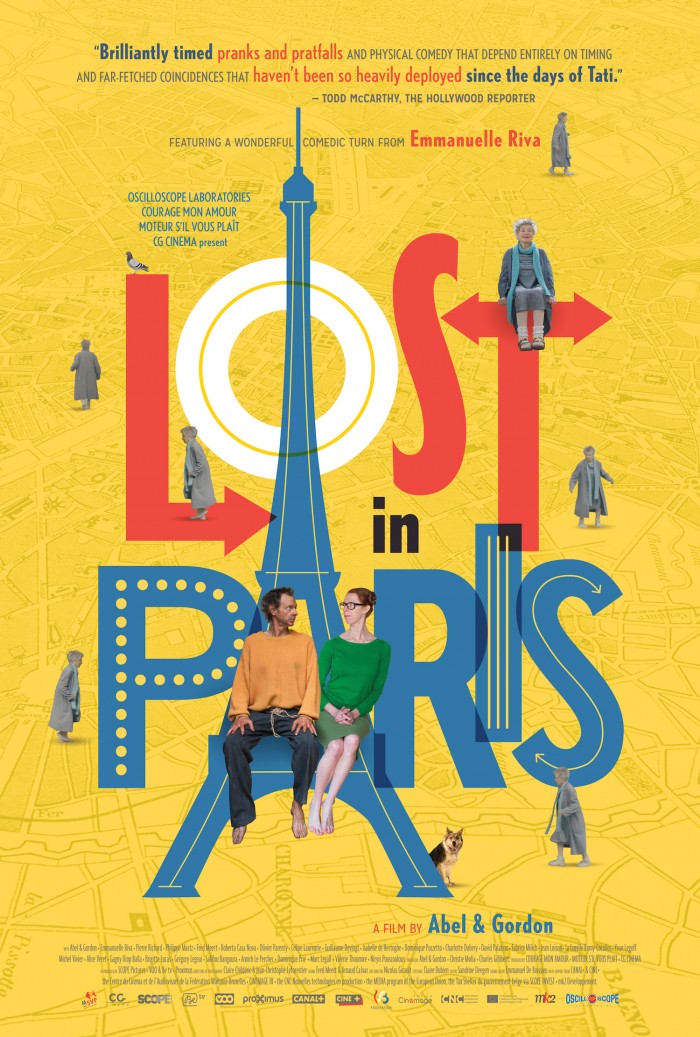 Lost in Paris opens in New York City June 16, 2017. There are no plans for a wider release yet.