Christina Hendricks Will Star In 'The Strangers 2'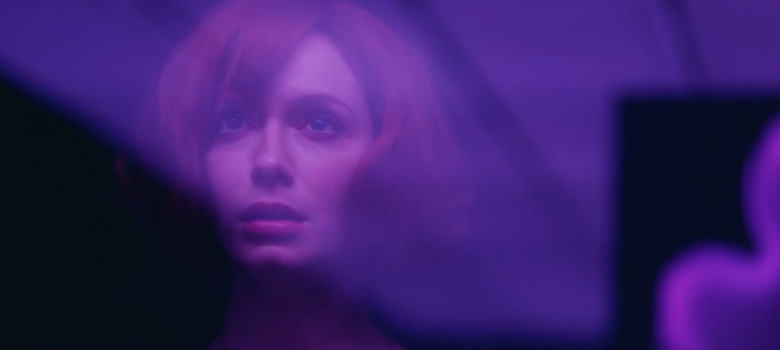 The Strangers grossed $82 million worldwide on a budget of $9 million. It's an effective horror movie that benefits greatly from Liv Tyler and Scott Speedman's performances. After its huge success at the box-office, it only took nine years for the sequel to happen, which was a delay caused by problems at Relativity.
One of the stars of Mad Men, Lost River, and the next Brian De Palma film, Christina Hendricks, is the sequel's lead. Below, learn more about The Strangers 2 cast.
Lewis Pullman (Aftermath) and Bailee Madison (Once Upton a Time) will star alongside Hendricks in the film. The original film's writer and director, Bryan Bertino, wrote the script eight and a half years ago, which later got a rewrite from Ben Keita.Johannes Roberts (The Other Side of the Door) is directing the sequel. The story follows a family on a road trip that goes, as you'd expect, horribly wrong. After they get to a secluded mobile home park, a power outage makes them decide to stay in a trailer for the night. Later, they get a visit from the Man in the Mask, Pinup Girl, and Dollface, the home-invading villains from the first movie. Shooting begins May 30 in Los Angeles.
The new synopsis is a little different from the previously reported storyline: before a family sends their troubled teenage daughter to boarding school, they decide to go one last family trip to the teen's uncle's mobile home. When the family arrives, they discover the uncle and his wife's dead bodies, and soon after, the strangers arrive. Perhaps these details are excluded from the press release or were rewritten.
Bertino hasn't stayed deeply involved in the film. He told Collider about the hold-up on the film, having his script rewritten, and why he's looking forward to the sequel:
I wrote a script for that movie eight and a half years ago, I think. And then as I was turning in the draft, Rogue Pictures was sold to Relativity. Relativity seemed to have lots of things that they wanted to do, and not making Strangers 2 seemed to be one of them. I haven't read the draft they're making, I haven't had a lot of connection with it. So it's a very weird experience for me. It's happened to countless writers over the years where you write a script and then years later you find out that, 'Oh! They hired a re-writer and now they're going into production with it.'
And you're thinking to yourself, 'Oh my God, I'll being going to the movie a little bit as a fan as well because I don't know what the final script looks like.' And I'm not really that interested in knowing exactly. It is kind of weird to get rewritten. I was pretty shocked to hear, but at the same time excited. And really supportive of the fact it seems like it's finally found producers that are financiers that are excited to make it.
There's no release date yet for the film, which in this day and age of micro-budget horror, I'd imagine costs less than original movie's budget of $9 million. Like the first film, though, it has a talented lead in Hendricks. And just like Tyler and Speedman, she could help make The Strangers 2 feel a little more visceral and real.