'Split' Sequel 'Glass' Will Get A Bigger Budget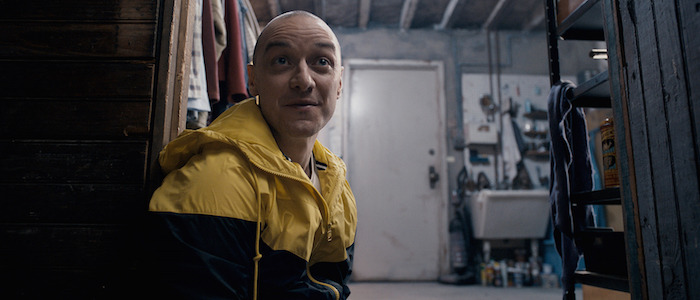 M. Night Shyamalan's Split sequel won't be restrained to the small budget of its predecessor. Blumhouse produced the horror thriller, which follows a man with 23 distinct personalities who kidnaps three girls, for just $9 million, which is actually a bit bigger than some Blumhouse productions. That movie went on to earn a whopping $275 million worldwide in theaters, prompting a sequel titled Glass (the reason for that title is, of course, a spoiler). The filmmaker is currently developing the sequel, but now we have word that the film will not be a conventional Blumhouse low-budget production.
Co-producer Jason Blum tells Collider that Glass will have a bigger budget than the original movie:
"The budget is more traditional, still by Hollywood standards a very low budget, but it is not $5 million."
(Major Split spoilers begin here.)
Blum still hasn't seen the screenplay that Shyamalan is working on, but hopes they will begin production by the end of the year. It makes sense that a combined Split/Unbreakable sequel will have to be bigger in its ambition and budget than Split was, but the question is how big of a movie will it be? Blum says it's still "a very low budget by Hollywood standards," which leads me to believe it will be priced moderately between $30-50 million.
Bringing on big name actors like Bruce Willis and Samuel L Jackson will probably account for some of that. Willis reportedly asks $1 million per shooting day, while Samuel L Jackson has supposedly made $7 million on some of the Marvel films. Unless these actors and McAvoy are taking back end deals, the budget is already being increased considerably due to their involvement as leads in the film.
Last month, M. Night Shyamalan took to Twitter to announce the project:
Okay. Here we go. Finished the new script. It's taken 17 years but I can finally answer the #1 question I get, "Are you making a f#&@ing sequel to Unbreakable or what?" My new film is the sequel to #Unbreakable AND #Split. It was always my dream to have both films collide in this third film. The iconic Bruce Willis returns as David Dunn. The incomparable Samuel L Jackson will return as Elijah Price/Mr. Glass. The virtuoso James McAvoy returns as Kevin Wendell Crumb, Patricia, Dennis, Hedwig, Barry, Jade, Orwell, The Beast, Heinrich, Norma, Pol-And the prodigy, Anya Taylor Joy will return as Casey Cooke. I'm reteaming with my partners Jason Blum and Universal Pictures for this crazy comic book thriller.And the film is called GLASS... Universal Pictures will release #Glass on January 18, 2019 all over the world. How's that for not keeping a secret!
Glass will hit theaters on January 18, 2019.