Redbox To Add 1,500 New DVD Rental Kiosks Across The U.S. In 2017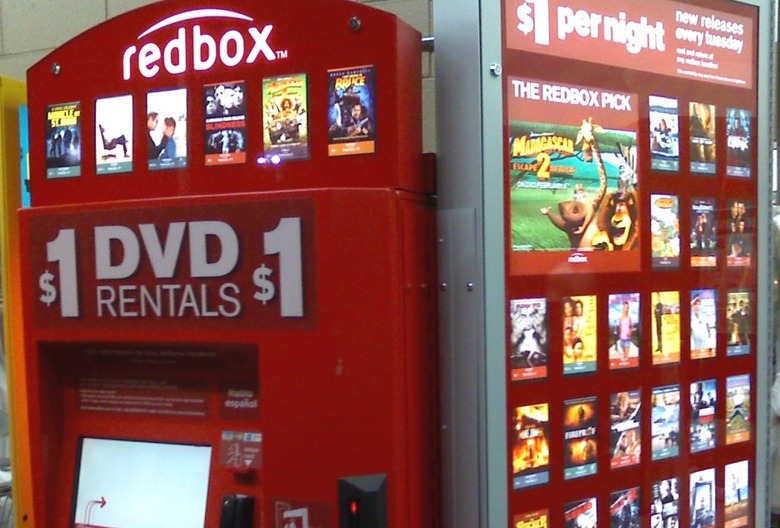 Despite facing competition from countless streaming websites and video-on-demand rentals from cable channels, Redbox isn't planning to go anywhere.
The DVD rental company — which allows you to rent brand new movie releases at $1.50 per day for DVDs (and $2 per day for Blu-ray titles) from kiosks located at your local supermarket or grocery store — is planning a massive expansion in 2017, adding a whopping 1,500 kiosks at strategic locations across the U.S. in 2017. This will add to their base of 40,000 kiosks the company already has active.
With a 41,500-kiosk footprint (the expansion will cost the company $40 million), there could be more Redbox's in the U.S. than Starbucks and McDonald's combined, according to CEO Galen Smith. And the company intends to be around for the long haul, he says.
Smith cited their early-release model as Redbox's advantage in the cutthroat streaming and on-demand industry. According to Variety, Redbox has direct output deals with Lionsgate and Paramount for same day as home video release and with Universal and 21st Century Fox for a 28-day delay after home-video release. Agreements with Sony Pictures Entertainment and Warner Bros. are currently in the works, while the only studio to hold out on a Redbox deal is Disney. For movies from studios with which it doesn't have a direct deal, Redbox purchases DVDs on the open market.
Here's an interesting bit from the Variety story, which details Redbox's little-known but admittedly large advantages:
Even if studios decide to move toward early-release premium VOD windows — an idea Disney chief Bob Iger dismissed on Tuesday's earnings call as unattractive — Redbox will still be well positioned with the lowest-cost option for access to the newest releases, Smith said. And if Hollywood keeps holding firm on home-video release windows, those titles will never be on Netflix, Amazon Prime, Hulu or other subscription VOD services, he noted.
Smith continued, telling Variety:
"There's no other distribution channel like us. Redbox lets [studios] reach a consumer they wouldn't be to get otherwise."
He may well be right. Redbox gives customers access to new movie releases for much cheaper than on-demand services — the lowest of which would be $5 for new releases compared to Redbox's $1.50 per day. Plus there's the modern-day novelty of going to the kiosk and getting a physical rental — which I know is ironic to say since Blockbuster went out of business for that exact model. But who knows, with the '90s nostalgia business booming, perhaps getting DVDs from Redbox is the next hot thing. And there's something to be said that the company — which started its rental business in 2002 — is still going strong.
That's not to say that Redbox is shirking the streaming business altogether. Last year Redbox began testing Redbox Digital, a transactional video-on-demand service. But that's still in the works and most likely won't be launched until way in the future.
In the meanwhile, Redbox will be leaning into the strength of its kiosks, rolling out a marketing a campaign to "reintroduce" consumers to the brand and making video-game titles available.
It's a daunting task to take on streaming giants like Netflix, Amazon Prime and Hulu, but Redbox could avoid Blockbuster's fate and be the little kiosk that could. Or you know, maybe in 5 years there will 41,500 abandoned kiosks.