Some 'Stranger Things' Season 2 Ideas Are Being Saved For Season 3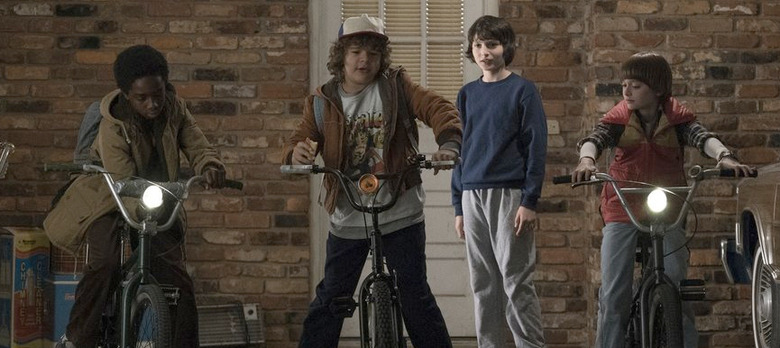 In an age in which many of the plot beats of every geek-friendly property are known about months in advance, it's something of a modern miracle that Stranger Things appeared seemingly out of nowhere last year and took the world by storm. But that anonymity vanished like Barb on a diving board when the show's popularity exploded, and the second season has become one of the most anticipated television events of the year.
Thankfully, it doesn't sound like the showrunners are scraping the bottom of the barrel for follow-up material. In a new interview, executive producer and director Shawn Levy reveals that series creators/showrunners the Duffer Brothers actually had too many ideas for a second season, and some of them are being saved for a potential season 3.
Levy spoke with Collider and gave some insight into the creative process behind Stranger Things season 2:
"As the episodes were written by the Duffers, they realized that there was too much story for nine episodes. So it forced us to be judicious in which stories we tell this season. So one of the surprises was, not all of our grand ideas are going to be serviced in one season... If we had 40 ideas going into the season, 30 [we] are going to pick, and the rest go in the back of our head for, hopefully, future chapters."
Unless season 2 somehow completely craps the bed, a third season seems like a near certainty, so it sounds like we'll have a chance to see what these "grand ideas" are...eventually. We still haven't seen much of season 2 at this point, so it's tough to even speculate about what those ideas might be, but we do know that season 2 is going to involve a lot more of Will Byers, who spent the majority of the first season trapped in the Upside Down. And Levy says actor Noah Schnapp was up for the challenge:
"When we cast the kids, we cast Noah Schnapp as Will Byers knowing that he was only in a small amount of Season 1 because he was missing. And we cast him because we knew that kid was special. Even if we weren't going to call on his full reservoir of abilities in Season 1. Will Byers is very much at the center of Season 2. Noah steps up in the most staggering way. The Duffers and I, depending on who's directing when, we keep sending texts to each other going, 'holy shit, Noah is crushing it' and we knew he had it in him, and it's really now to get in that moment, and put him firmly in the thick of story."
I'm excited to see what Will adds to the group dynamic, since we didn't have much of a chance to see how he reacts to his friends in season one. With Eleven currently missing in action and a potential Thessalhydra to contend with, the gang is going to need all the help they can get.
Stranger Things season 2 arrives on Netflix on October 31, 2017.