'Avatar' Sequels Add 'Fear The Walking Dead' Star Cliff Curtis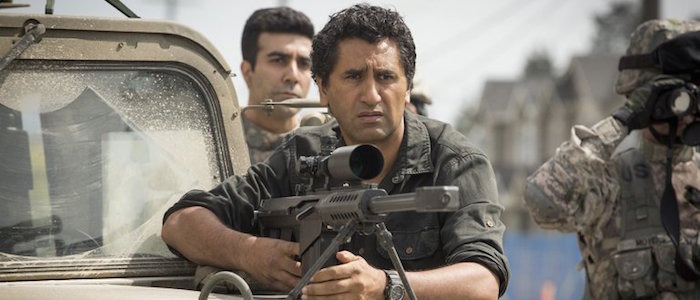 Here's more news to solidify that the Avatar sequels are actually happening: Fear the Walking Dead star Cliff Curtis will be joining all four sequels to the James Cameron sci-fi epic in a lead role.
Curtis' role will expand the mythology of the Avatar universe by taking the series underwater, which Cameron has hinted at, and which posed many obstacles for the motion-capture technology that Avatar uses.
The New Zealand-born actor will play Tonowari, the leader of a reef people clan called the Metkayina, according to Deadline.
Curtis is set to appear as Tonowari, which is a lead role alongside returning cast members Zoe Saldana, Sam Worthington and Sigourney Weaver, in all four sequels to Avatar.
Concurrent production on Avatar 2, Avatar 3, Avatar 4, and Avatar 5 began last month at Wellington's Stone Street Studios.
The first sequel to the 2009 film is due out on December 18, 2020 and Avatar 3 will follow a year later on December 17, 2021. After a three year gap, Avatar 4 will arrive on December 20, 2024 and Avatar 5 will wrap everything up on December 19, 2025.
Curtis will continue his role on Fear the Walking Dead, and Deadline reports that the Avatar production will work around Curtis's schedule for the AMC spinoff of popular zombie series The Walking Dead. Curtis will return as Travis Manawa on Fear the Walking Dead on June 4.
It's nice that Cameron is casting an actor of Maori descent to play the leader of an underwater clan — it's a surprisingly thoughtful piece of casting in a movie that's a plays so heavily off of the historical tensions between indigenous peoples and white, Western colonizers (though Curtis would be the first actor descended from an indigenous culture in the series). It encourages me that there are more pieces of considerate casting like that, such as the casting of Polynesian actor Jason Momoa as Aquaman and the majority-Polynesian cast of Moana. Racially sensitive casting doesn't really matter when everyone is blue anyways, but it still feels like a step in the right direction — especially when Curtis has been cast as every ethnicity from African-American, Arab, Latino to Indian.
I do wonder if the Metkayina clan will actually be blue since that will probably be a huge pain for Cameron and crew to render if they live underwater, but the prospect of underwater performance capture is intriguing. The Avatar sequels sound like more visual stunners that will live up to the $2.7 billion-grossing original film.