Video: Rocket Racoon Gives Us A Preview Of 'Mission: Breakout' Ride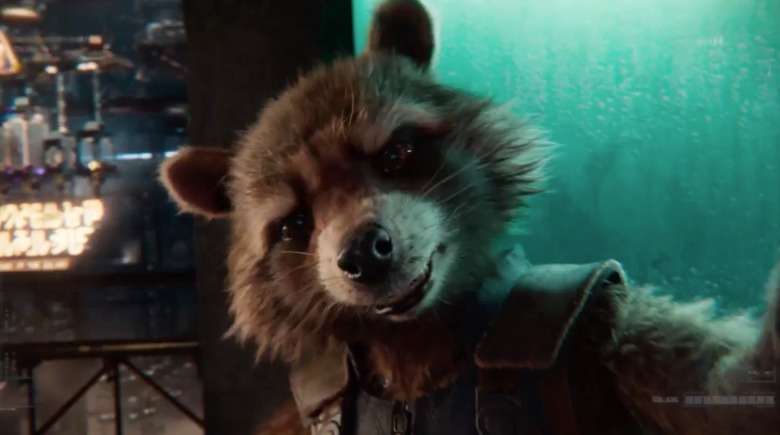 Guardians of the Galaxy – Mission: BREAKOUT! is gearing up to open at Disney California Adventure on May 27, 2017. Now that Guardians of the Galaxy Vol. 2 has hit theaters, Disneyland Resort is pushing the marketing campaign into high gear for the Twilight Zone's Tower of Terror redo. A new message has been received from Rocket Raccoon calling for our assistance in breaking the Guardians of the Galaxy out from the Collector's fortress. Watch the new video, embedded after the jump.
Discov[GUARDIANS OF THE GALAXY]r the M[ARE]gic of Di[TRAPPED]eyland this s[HELP US BREAK OUT]mmer! pic.twitter.com/givZPLOY8w

— Disneyland Resort (@Disneyland) May 8, 2017
The above video features Rocket Raccoon explaining the predicament that the Guardians of the Galaxy find themselves in. This piece was rendered just for marketing and is apparently not part of the video that will play in The Collector's office (remember the study from the old Tower of Terror attraction) with Rocket hacking into the security channel and enlisting the help of the park guests touring the Tivian's museum.
A couple of weeks back we learned that the new queue would feature over 2,200 props on display spanning comics to movies to tv series and that the new version of the ride would feature six different ride experiences set to music from Starlord's Awesome Mixtapes: Born to Be Wild" by Steppenwolf, "I Want You Back" by Jackson 5, "Hit Me With Your Best Shot" By Pat Benatar, "We Want The Funk" by Parliament, "Burnin' Love" by Elvis Presley, and "Free Ride" by Edgar Winter. Castmember and Annual pass holder previews will begin in less than two weeks, leading to a grand premiere party and opening.