Tessa Thompson's Valkyrie Returning For 'Avengers: Infinity War'?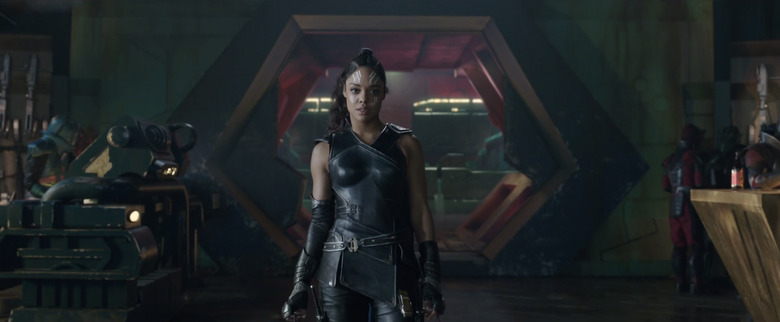 At this point, it's probably easier to list all of the Marvel Studios characters who won't be showing up in Avengers: Infinity War, Anthony and Joe Russo's gargantuan superhero team-up film that will feature Marvel's greatest heroes facing off against the ultimate big bad, Thanos.
Now it looks like we can add one more character to the seemingly endless cast list: Tessa Thompson's Valkyrie, who will first appear on screen later this year in Thor: Ragnarok. Get the latest Valkyrie Avengers Infinity War news below.
Screencrush points us to an Instagram photo that may have confirmed the character's appearance:
Thank you for the hug and wonderful handshakes – I'm a huge fan of your work! Especially #DearWhitePeople ! @tessamaethompson Thank you for everything ?? #avengers #infinitywar #tessathompson #theavengers #edinburgh #marvel #avengersinfinitywar #thor #thorragnarok #valkyrie
That's Thompson with a fan in a pic taken outside the Waldorf Astoria in Edinburgh, Scotland, where Avengers: Infinity War recently filmed.
Let's get this out of the way first: yes, there's a chance that Thompson is just there visiting her old castmates – the same fan posted another pic with Thompson's Ragnarok co-star Mark Ruffalo – and since Infinity War is one of the biggest movies ever made, there's sure to be a handful of famous people that stop by to simply witness the scale of this unprecedented production.
But let's get real, ya'll. Valkyrie is totally in this movie.
For those who don't know, Valkyrie is a warrior who, in the Thor: Ragnarok trailers, seems to work for Jeff Goldblum's Grandmaster. But we know she eventually allies herself with the God of Thunder, presumably to help him take down Cate Blanchett's Hela and possibly prevent the apocalypse that's hinted at in the film's title. She looks like a badass fighter (that costume is fire), so she'll probably be a welcome addition to any squad looking to battle the Mad Titan Thanos as he threatens the existence of the entire Universe in Infinity War.
I also hope this photo confirms her place in the movie's massive cast because that would mean yet another person of color popping up in a film series that's largely full of white faces. Representation is important, especially in a movie of this size that has the potential to be seen by half the civilized world. What do you think? Looking forward to seeing Valkyrie wreck some shit in Infinity War?
Thor: Ragnarok hits theaters on November 3, 2017, and Avengers: Infinity War arrives on May 4, 2018.