'Marvel's Inhumans' Teaser Trailer: They'll No Longer Remain Silent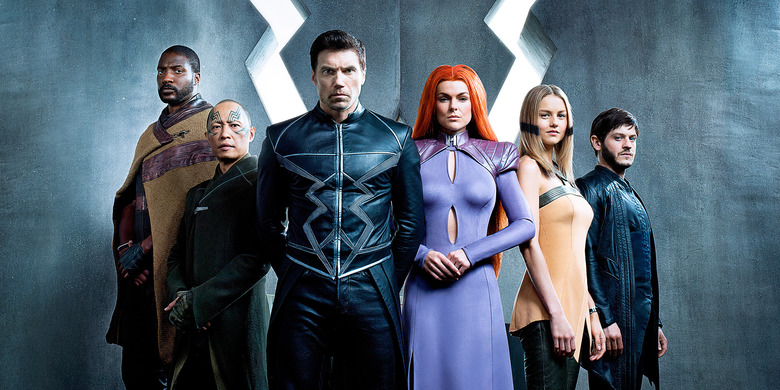 The first look at Marvel's Inhumans Thursday was revealed yesterday, with a cast photo that showed the Royal Family in a cosplay-worthy redesign. In other words, what's up with that bad wig?
So it's a good move on Marvel's part to tease Inhumans with a brief, cryptic trailer that features no visual footage, but dialogue between two unseen characters.
In the 30-second teaser, music ominously builds as the Inhumans logo appears and words are spoken by unseen characters. One character urges defiance against the ruler of the Inhumans, Black Bolt, while another female character argues against him. The first character sounds much like Game of Thrones' Iwan Rheon, who plays Maximus the Mad, Black Bolt's brother and a psychic.
"Are we supposed to follow our king and remain as silent as he is?" Maximus says.
"You're talking about betraying your brother. You're talking about treason," the female character, presumably Isabelle Cornish's Crystal responds.
"What I'm talking about is freedom," Maximus declares. "Freedom for all Inhumans."
For a refresher, the Inhumans Royal Family consists of Anson Mount as Black Bolt, Eme Ikwuakor as Gorgon, Ken Leung as Karnak , Serinda Swan as Medusa, Cornish as Crystal, and Rheon as Maximus.
The Inhumans, who first played a role in the Marvel Cinematic Universe in Agents of S.H.I.E.L.D., are a group of people with genetically passed down superpowers that are unlocked by exposure to a substance known as "Terrigen Mist."
Though the Inhumans we've seen in Agents of S.H.I.E.L.D. have pockets of organizations where they come together to train, most of them are scattered as Terrigen Crystals have spread throughout the globe, unearthing a worldwide network of Inhumans. But a core group, who have known of their genetic predisposition for centuries, live in an isolated, futuristic city called Attilan, which is ruled by the aforementioned Royal Family. Black Bolt, whose voice can level cities, and his wife Medusa, whose hair is a deadly weapon, sit on the royal throne. For a deeper dive into the Inhumans, check out our character breakdown.
It makes sense that Maximus the Mad is the one encouraging revolt, as his character has long been established as a sort of erratic conniver with his eye on the throne. His actions may set off the series of events that lead the Inhumans to leave Attilan and presumably end up taking refuge in Hawaii.
Inhumans will arrive in IMAX theaters on September 1, 2017 for a limited two week engagement before airing on ABC in the fall.