'Guardians Of The Galaxy Vol 2' Review: A Soulful And Surprising Superhero Movie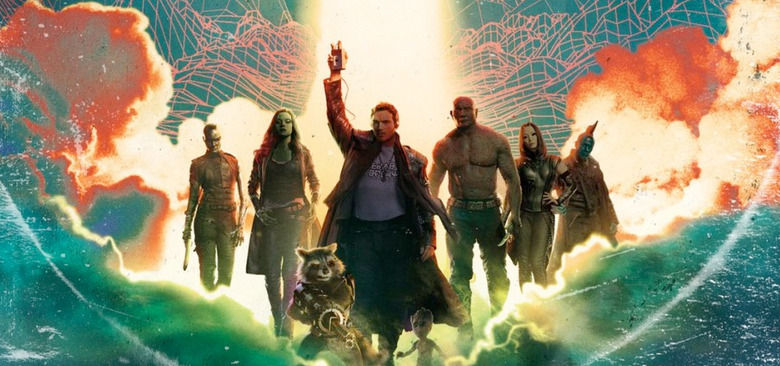 At times, the plot almost feels nonexistent in Guardians of the Galaxy Vol. 2. Whether during an extended gag, a moment of backstory, or a sincere heart-to-heart, writer-director James Gunn is clearly more invested in character than the sequel's simple doomsday plot. There's a looseness, almost a shagginess, to the Marvel sequel that allows the characters to shine brightest in some eye-popping environments.
Like the first film, Vol. 2 begins with a strong emotional hook. The opening sequence is full of life. Set on Earth, it's every bit as vibrant as the colorful, Yellow Submarine-esque settings we journey to with the Guardians of the Galaxy, who are now more familiar with each other than before. Between the first movie and the sequel, their bond has tightened, which is even made clear by how Drax (Dave Bautista) reacts to one of Rocket's (Bradley Cooper) jokes after they complete another job.
When Peter Quill (Chris Pratt), Baby Groot (Vin Diesel), Gamora (Zoe Saldana), and the others first show up, they're attempting to protect some Anulax batteries from a wormy space beast. The sequence shows Gunn has stepped up his game considerably with the action, which isn't one of the first movie's strong suits, but it also illustrates what's changed and what hasn't with the gang. They're still bickering underdogs prone to make mistakes, but only together can they still manage to get out of a jam.
They're doing a job for the High Priestess of the Sovereign (Elizabeth Debicki), who has an awfully high opinion of herself. She's not as charmed by the Guardians as we are, either. Although her role is minimal in the film, her golden presence elicits more than a few laughs, and she does, of course, help lead Quill to his father, Ego the Living Planet (Kurt Russell) – which is the only underwhelming relationship in the sequel. Emotionally, it's not as satisfying as what we see between Gamora and her sister, Nebula (Karen Gillan), or some of the other struggling characters. If any part of Vol. 2 is rushed, it's Quill and Ego's relationship.
[Spoiler Alert]
What Ego does in the third act doesn't come as a surprise. That's fine since Ego's awkward and tragic servant, Mantis (Pom Klementieff), helps spell out trouble is coming early on in her interactions with the Guardians. The reveal of Ego's plan, though, is more calculated than authentic. It's the one place where, dramatically, it feels like a box checked for a big third act fight to occur.
When Nebula tells Gamora about the pain she put her through, that's a real moment. When Yondu (Michael Rooker) reveals his regrets, that's another real moment. When Quill learns what Ego has done and what he's up to, it's a strangely cold reveal, despite what it means to Quill. The father and son scenes don't always have as much breathing room as the rest of the film. They're funny, and the two have a terrific discussion about Looking Glass' "Brandy," but their relationship doesn't ever feel intimate or emotional enough to make the reveal have more of a sting.
[Spoiler Over]
The ending still has emotional weight, despite the Ego problem. How Nebula, Yondu, and Rocket grow is a part of Guardian of the Galaxy Vol. 2's spectacle. We more often than not know what we're going to get from a comic book movie, but rarely do we know what we'll see these characters do or say next. They can surprise us, and they can surprise themselves, which is a part of the excitement of these movies.
Gunn is never in a rush to get the next action scene. Even when action is unfolding, he sometimes keeps it off-screen, both as a joke and to keep the characters always at the forefront of Vol. 2. The sequel's pacing and structure are a breath of fresh air to the start of this summer movie season. While Quill is sometimes the odd man out in the story, everyone else, including Mantis, gets the attention, time, and care they deserve from the filmmaker.
The plot's lightness allows for greater emphasis on the ensemble, and it also means we don't have to sit through too much exposition. The few major expository pieces of dialogue come from Russell, and he delivers it all with charm, grace, and his unforgettable laugh. The actor fits right in with the Guardians. He's, unsurprisingly, as charismatic and vulnerable as they are.
Guardians of the Galaxy Vol. 2 is a movie bursting with personality. Gunn doesn't try to top the first movie in scale, he attempts to surpass it with character – and he often succeeds. It's a little difficult to compare the two films since they both have their own strengths and problems, but they are both hilarious and heartfelt redemption tales, in which both the heroes and villains can change and grow. The fun cameos, the playful action, or the worldbuilding aren't what make Guardians of the Galaxy Vol. 2 such a satisfying sequel, it's the places Gunn takes these kindhearted A-holes./Film Rating: 8 out of 10