'Apostle': 'The Raid' Director's Next Film Gets A First Image And An Official Synopsis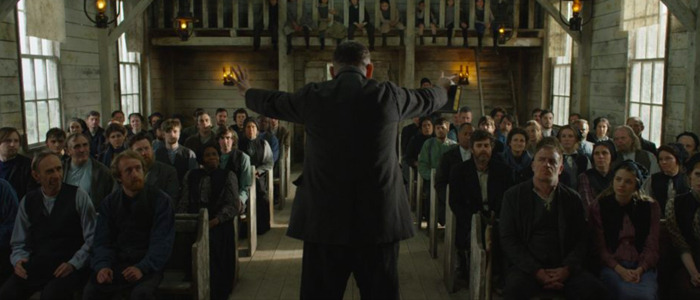 Director Gareth Evans earned a lifetime of support from me with his impressive martial arts film Merantau and his astounding work on The Raid movies, so it's safe to say I'm very much looking forward to seeing what he does with his newest film, Apostle. The fact that he's cast Dan Stevens (Legion) in the lead role and has people like Michael Sheen (Masters of Sex) and Lucy Boynton (Sing Street) in supporting parts is just icing on the cake.
This morning, Evans released the first official image from the movie – which has a bit of a There Will Be Blood vibe to it – along with the official synopsis, both of which you can find below.
First up, bow down before the film's first official image, which comes straight from Evans' Instagram page:
Let us pray. #apostle Proud to share the first still for Apostle. Full res available at: http://xyzfilms.com/films/apostle Link in bio.
I can't confirm if that's the back of Michael Sheen's head, but he would certainly be a good choice to play a charismatic cult leader. What's that, you say? Oh yeah, this movie is a period piece thriller about a cult. Here's the full official synopsis, from production company XYZ Films' homepage:
The year is 1905. Thomas Richardson travels to a remote island to rescue his sister after she's kidnapped by a mysterious religious cult demanding a ransom for her safe return. It soon becomes clear that the cult will regret the day it baited this man, as he digs deeper and deeper into the secrets and lies upon which the commune is built.
We already knew all of that information except for the fact that Stevens' character's name is Thomas Richardson. But by setting up the fact that "the cult will regret the day" they crossed him, I'm afraid people are going to get the wrong idea about this movie and set their expectations in a different zone than what Evans actually plans on presenting. From what I understand, this won't be a Raid-style action-fest with Stevens elbowing and drop-kicking dudes across an island as he goes after his sister. Stevens previously called the movie a "dark thriller" and clarified that "it's not a kung fu film," while Evans himself described it as being "outside of the action genre." Take that as you will.
Regardless of genre, I'm just happy that Evans is back behind the camera again. It's been three years since The Raid 2 was in theaters. I'm not exactly sure when Netflix will release Apostle, but even if it magically hits the streaming service tomorrow, three years is too long to wait between movies for a director as exciting and inventive as Evans.