New 'Blade Runner 2049' Posters: Ryan Gosling And Harrison Ford Are Night And Day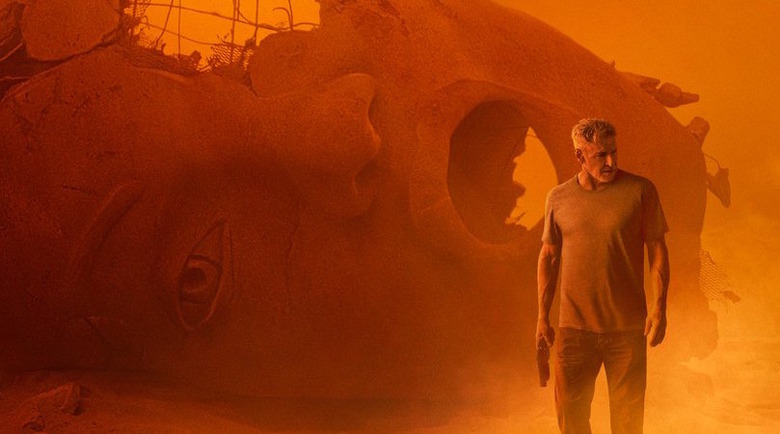 Returning to the Blade Runner series that helped cement his legacy as one of Hollywood's most reliable action stars must have been a walk in the park for Harrison Ford. Maybe too much of a walk in the park, if these new Blade Runner 2049 posters are anything to go by.
Two new posters for Denis Villeneueve's sequel to the Ridley Scott sci-fi classic were released today, one featuring franchise newcomer Ryan Gosling,  who plays a hotshot blade runner Officer K, and Ford, who returns as former blade runner Rick Deckard.
The two posters are like night and day — not just in their composition of Gosling's poster as white and stark and Ford's poster as grimy and orange — but in their outfits. I know sci-fi movies aren't fashion shows, but come on Harrison...did you just wander on to set from a nap in your trailer? Meanwhile, Gosling is dressed to the nines in a slick black coat with an absurdly high collar. I'm assuming this is because "future."
At least Ford nothing if not consistent. All the previous marketing and stills from Blade Runner 2049 — which follows Gosling's Officer K as he hunts for a missing Rick Deckard who has vanished for 30 years — have shown Ford sporting that simple gray T-shirt. I know Rick is on the run, but you'd think that in the future, outcast clothing would have a little more flair than that. Though I wouldn't put it above Ford to only agree to return to the Blade Runner series if he was allowed to wear his own clothes. I kid, of course.
Fashion choices aside, let's dive into those posters. The simplicity of them don't offer much to theorize about, but that giant, dilapidated head behind Deckard is intriguing. What does it mean? Is it some relic of some kind? Or is it meant to be a piece of symbolic foreshadowing about Replicants? We know that he's supposedly hiding out in a ruined Las Vegas, so it could just be the remains of a former hotel statue.
We'll find out more when the new trailer drops next week. Here's the official synopsis for all of you again:
Thirty years after the events of the first film, a new blade runner, LAPD Officer K (Ryan Gosling), unearths a long-buried secret that has the potential to plunge what's left of society into chaos. K's discovery leads him on a quest to find Rick Deckard (Harrison Ford), a former LAPD blade runner who has been missing for 30 years.
Blade Runner 2049 hits theaters October 6, 2017.