'Everything Everything' Trailer: It's A Star-Crossed Romance, But Check Out That Soundtrack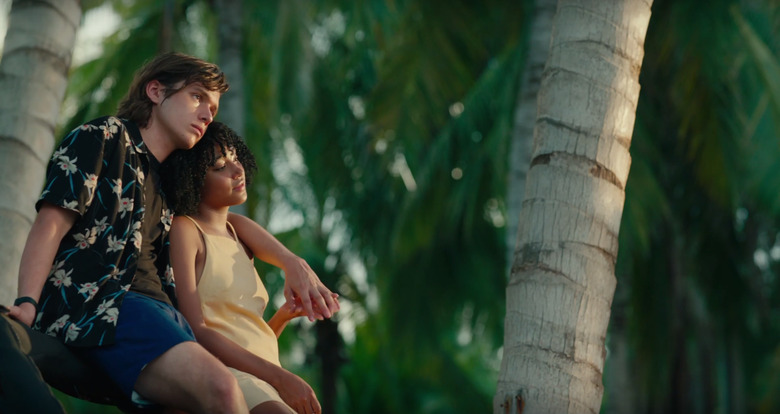 It's a tragic story: two young teenagers fall in love, but one cannot go outside or she'll die from her chronic illness. But maybe it'll be worth the tears as long as it's set to a baller pop soundtrack.
The new trailer for Everything Everything, the tearjerker romance based on a bestselling YA book by Nicola Yoon, highlights the movie's trendy pop soundtrack, with songs by Skylar Stecker and Zedd & Alessia Cara. And new illustrated poster accompanies the trailer, emphasizing the sweet, whimsical nature of a young, budding romance.
Everything Everything follows Maddy (Amandla Stenberg of Hunger Games and social awareness activist fame), a bright and curious 18-year-old who has never stepped foot outside in her life thanks to an illness that has made her immune system fatally vulnerable. But that changes one day when the new boy next door (Nick Robinson from Jurassic World) becomes entranced with her, and the two of them fall in love.
All of this is set to the backdrop of the zippy electronic pop songs How Did We by Skylar Stecker and Stay by Zedd and Alessia Cara, which take away some of the trailer's melancholy in favor of the whirlwind of first romance.
Speaking of first romance, spring is in the air and love is (literally) blooming in the flowery illustrated poster for Everything Everything, seen below: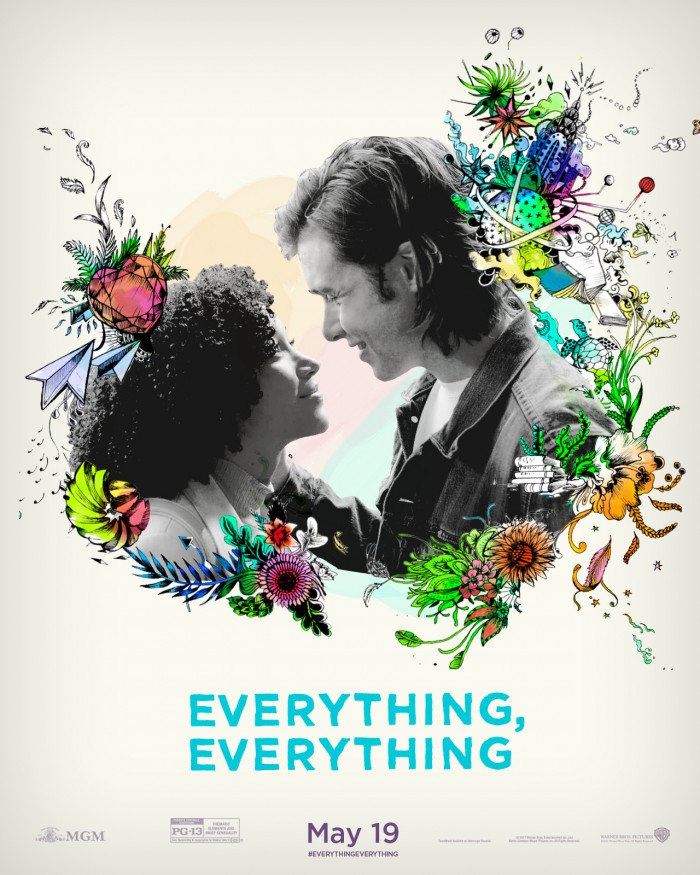 Directed by Stella Meghie with a screenplay by J. Mills Goodloe, Everything Everything's cast is rounded out by Ana de la Reguera (Sun Belt Express) and Anika Noni Rose (Dreamgirls).
See the official synopsis for the movie below:
What if you couldn't touch anything in the outside world? Never breathe in the fresh air, feel the sun warm your face...or kiss the boy next door? "Everything, Everything" tells the unlikely love story of Maddy, a smart, curious and imaginative 18-year-old who due to an illness cannot leave the protection of the hermetically sealed environment within her house, and Olly, the boy next door who won't let that stop them.
Maddy is desperate to experience the much more stimulating outside world, and the promise of her first romance. Gazing through windows and talking only through texts, she and Olly form a deep bond that leads them to risk everything to be together...even if it means losing everything.
The teen tearjerker is set to hit theaters on May 19, 2017.