Watch Mike Myers As 'The Gong Show' Host Tommy Maitland On 'Jimmy Kimmel Live'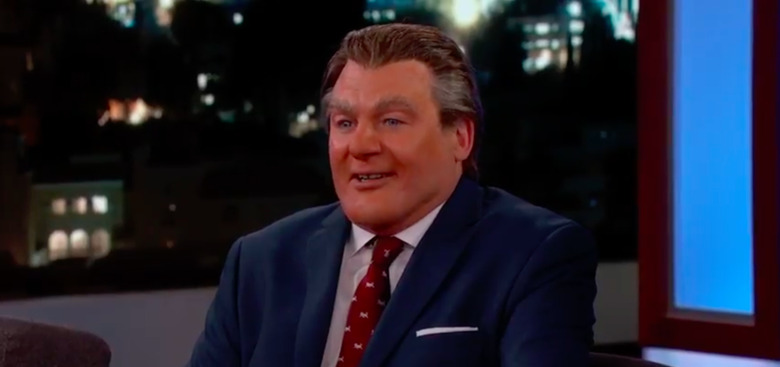 We're soon going to see more of Mike Myers. His last appearance in a live-action film (without counting documentaries) was Inglorious Bastards, in which he played a British general under heavy prosthetics. Now, he's playing a British comedian under prosthetics in ABC's reboot of The Gong Show, once hosted by the recently departed Chuck Barris (who was played by Sam Rockwell in Confessions of a Dangerous Mind). Myers' character, British performer Tommy Winston Maitland, is the new, somewhat unsettling face of the amateur talent contest.
Below, watch The Gong Show reboot producer Will Arnett introduce the 70-year-old comic.
Will Arnett and his production company, Electric Avenue, are behind The Gong Show. In a statement, Arnett said he's been a big fan of Maitland ever since he was a teenager and saw the comic perform in the UK. While guest hosting Jimmy Kimmel Live!, Arnett brought out his old friend to greet viewers:
There are some funny bits in here, like Maitland asking about the "millions and millions of dollars" and repeating "I've just got off the plane" like an old curmudgeon. The hearty laugh that follows the insults is pretty good, too. Not all the jokes land, but it is only two and a half minutes long, and it is still nice to see Myers cracking jokes again.
The Austin Powers and Shrek star maybe won't be as humorous in Terminal, a thriller he's starring alongside Margot Robbie and Simon Pegg in. That's expected to hit theaters sometime this year, although it doesn't have a distributor yet. Terminal sounds like an opportunity see a new kind of performance from Myers, who's clearly been doing his own thing this past decade.
Years ago in a great, revealing interview with GQ, he said he's always "making things," as he puts it. He'll paint, make some music, and write poetry, as he considers a few films in his head. Although we rarely see him in front of the camera, he's consistently working. He even took a shot at directing in 2013 with the funny and touching doc, Supermensch: The Legend of Shep Gordon.
The Gong Show premieres on ABC on June 22. Here's some info on Maitland's history from ABC:
Born on July 7, 1944, Thomas Winston Maitland (his middle name is a tribute to Winston Churchill) grew up in Neasden, GLC, Borough of Brent, where his father was an actuary and in the Merchant Marine and his mother was in the RAF. After a failed stint as a pipe fitter's apprentice, Tommy joined the British Army at the tender age of 15. He later joined the Entertainment National Service Association (ENSA), where he got to know some of the UK's biggest comedians. He played the ukulele, told jokes and drummed (though he drummed badly), and he ended up hosting the show – a talent he would later be known for. He was voted ENSA Entertainer of the Year, for which he was given a guarantee to appear on British radio. He later worked as an announcer for the British radio show, "The Whosey Whats," and got small roles in the "Carry On" films – either as the over anxious compart at a men's club or the strict union pipe fitter. He also appeared in the TV series, "The Lord Mayor," as the cheeky mayor of a mythical town in East Anglia, who struck it rich because they sat atop an oil field.