Netflix May Resurrect 'Triple Frontier' With The Affleck Brothers In The Lead Roles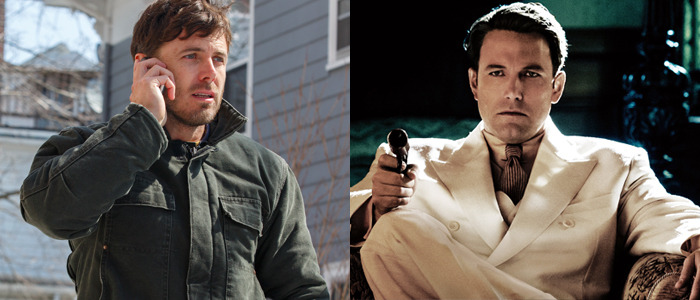 Director J.C. Chandor's drug thriller Triple Frontier just won't stay down. The movie has been in the works since 2009, and was originally envisioned as Kathryn Bigelow's follow-up to her Oscar-winning film The Hurt Locker. The promising project has suffered a string of bad luck in the years since, culminating with Paramount and stars Channing Tatum and Tom Hardy dropping out last month, just weeks away from the planned start of production.
But now it looks like Netflix might swoop in to keep this movie alive, and they could be bringing Ben and Casey Affleck along for the ride.
Deadline brings word about the potential resurrection, in which Netflix would offer the lead roles to the Affleck brothers alongside Mahershala Ali (Moonlight, Luke Cage). That would mark a reunion for Ben and Casey, who haven't appeared together on screen since 1997's Good Will Hunting, and it would also unite this year's Oscar winners for Best Actor (Casey) and Best Supporting Actor (Ali). Sounds cool to me.Mark Boal (The Hurt Locker, Zero Dark Thirty) wrote the screenplay, which is set in the dangerous converging border territory of Paraguay, Argentina, and Brazil. The area is rife with drug dealers, counterfeiters, and terrorists, and investigations have uncovered ties to Al Qaeda in the region. Early versions of the movie's script had five key male roles, but we know Chandor has since done a rewrite of Boal's screenplay, so we're not entirely certain if that early structure is the same or if it's been tweaked.
In any case, this project has attracted some major talent over the years, including Tom Hanks, Will Smith, and Johnny Depp. Chandor, who directed Margin Call, All is Lost, and A Most Violent Year, is a filmmaker with a strong vision, and I'm intrigued by what he wants to do with this story. Seeing the Affleck brothers reunite on camera would be fun, but watching them team with Ali could be downright riveting. No deals are signed yet, but we'll keep you posted.
Netflix has earned a reputation for coming in and saving fan-favorite television shows from cancellation, and perhaps with producer Scott Stuber now running their film division, they'll now be willing to do the same for high-profile movie projects. It's not like the company is hurting for money; they're reportedly dropping $125 million on Martin Scorsese's The Irishman, which, coincidentally, is another project that Paramount let go under that studio's new leadership. Sounds like Paramount's losses are starting to turn into Netflix's gains.