Star Wars Bits: 'Last Jedi' Costumes, Han Solo Characters, Kathleen Kennedy, Rian Johnson & More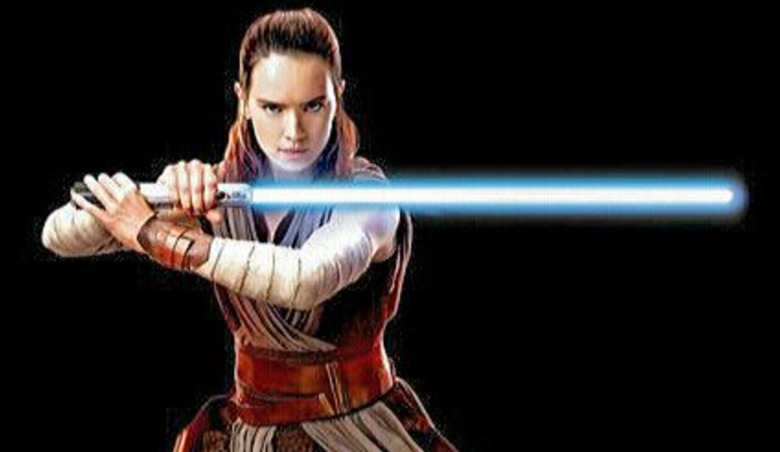 In today's edition of Star Wars Bits, we take a look at new images showing off Rey and Kylo Ren's costumes from Star Wars: The Last Jedi, video footage from the largest gathering of Star Wars droids that I've ever seen, the names of two major characters from Han Solo: A Star Wars Story, Rian Johnson talks about the pressures of following up Force Awakens and his approach to The Last Jedi, a closer look at Johnson's Millennium Falcon graffiti, how Lucasfilm head Kathleen Kennedy discovered Star Wars in film school, A new theory which suggests that Rey's parents were shown in Star Wars: The Force Awakens but are no one you might suspect, get a first look at the blockbuster Star Wars comics crossover with Doctor Aphra in Star Wars: The Screaming Citadel, Kathleen Kennedy talks about the progress of future Star Wars spin-offs, a new video explains how Grand Admiral Thrawn was able to rise to one of the most powerful positions in the Galactic Empire despite being a nonhuman in an alien-hating military, Han Solo is shooting for a few weeks on the Canary Island of Fuerteventura but what planet is it? Hit the jump to hyperspace.
Rey and Kylo's Last Jedi Costumes
Rey and Kylo Ren will have slightly new looks in Star Wars: The Last Jedi. Thanks to a pre-order bonus image for Star Wars Battlefront 2, we have a glimpse at their new wearables. The image was released after an announcement at Celebration that Star Wars: The Last Jedi costumes would come with the game. Previously we were only shown a close-up of Kylo's new look, complete with a newly relocated scar. Rey seems to be wearing a more Jedi-esque costume while Kylo Ren now seems to sport a non-hooded cloak. I'm hoping that Kylo finds a replacement helmet because the headgear is half of what made Darth Vader so cool.
Han Solo Character Names Revealed
MakingStarWars has learned the names of two major characters from the untitled young Han Solo standalone movie.
Mother Proxima is a character operated by Dave Chapman, one of the two BB-8 operators from The Force Awakens.
Val is a a female character who is said to be involved in an action sequence shot at Pinewood. The character supposedly has "top billing" which probably means it's a character played by Emilia Clarke, Phoebe Waller-Bridge or Thandie Newton.
Not much information here, but always fun to learn something new about this highly secretive production.
Steele Films interviewed Rian Johnson at Star Wars Celebration Orlando 2017, and the video is online and worth watching. Johnson talks about the pressures of following JJ Abrams' The Force Awakens, his frame of mind while directing a Star Wars film, the expectations of Luke Skywalker in The Last Jedi, the balance between satisfying the ten-year-old fan and himself, the decision behind starting the film seconds after the ending of Force Awakens and JJ Abrams' reaction to The Last Jedi script. There isn't much in terms of big information but it's worth watching.
The Lightsaber Theory Suggests Rey's Parents Are Not Skywalker, Solo or Kenobi
At /Film, we love film theories and speculation. A new theory suggests that Rey's parents were in The Force Awakens. The video above suggests Rey's parents were never supposed to be Luke Skywalker, Han Solo and Princess Leia, Obi-Wan Kenobi or any other character we currently know in the Star Wars universe. The YouTube video creator theorizes that Rey's complete backstory is tied to Luke's old blue lightsaber, that originally belonged to Anakin Skywalker used in the Clone Wars.
"I strongly believe that one or both of Rey's parents were Luke's Jedi apprentices and that they're among the bodies we see in front of the Knights of Ren. An alternate way to interpret this is that Luke ends up giving the lightsaber to Rey's father or mother, believing them to be the rightful heir to the Jedi and angering Ben Solo because Luke doesn't trust him to carry on the legacy. This would be huge for a villain who's been set up to revere his grandfather. Luke might even suspect Ben is slowly being seduced to the Dark Side by Snoke as he picks his successor."
I reccomend you watch the whole video above to hear the whole thing, which is much too long and involved to go into here.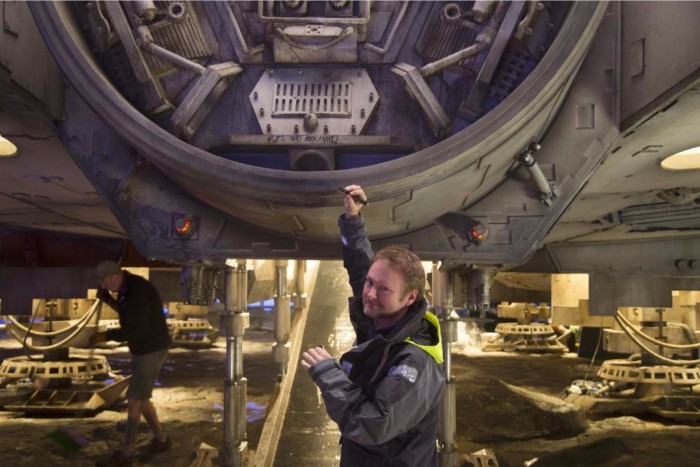 Rian Johnson One-Up's JJ Abrams in Millenium Falcon Graffiti
Today the official Star Wars Twitter account released a high-resolution copy of the photo that was first shown on screen at Star Wars Celebration Orlando 2017 with Rian writing something on the back of the Millennium Falcon. The former text read "J.J. was here! VII" (referring to The Force Awakens Episode number as the film didn't have a title during filming) and Rian has crossed out the first "J" and added an "R" to the beginning, plus another Roman numeral "I" to the end.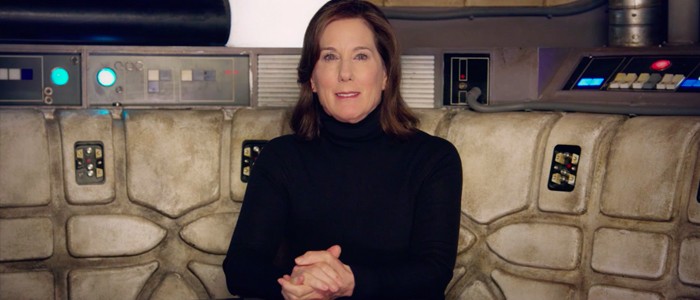 Kathleen Kennedy Didn't Discover Star Wars Until Film School
Lucasfilm head Kathleen Kennedy recently gave a speech to the Archer Film Festival where she revealed she had not seen Star Wars until film school.
"I know J.J. (Abrams) was here last year. He gets to say that he was 7 when he saw Star Wars. I wasn't. My introduction to Star Wars was a little different. Ironically, I was in film school ... so it was a meaningful introduction. What I realized when I stepped into this role was that it was important to people. Recognizing that it was this modern mythology that had formed a lot of the culture of filmmaking for so many people, it carried with it a huge responsibility. I was stepping into something that wasn't mine. It was George Lucas', who created the whole thing. But then it belonged to the fans. That is what I had to recognize and learn about so I could carry that on and meet those expectations."
She has a bunch of other great quotes, which you can read here, especially talking about how she is a big fan of 70's films and filmmakers.
First Look At Star Wars/Doctor Aphra Crossover The Screaming Citadel
The Star Wars and Star Wars: Doctor Aphra comic books are having a crossover event, and Marvel has released a first look inside Star Wars: The Screaming Citadel #1, the first chapter in a blockbuster five-part story kicking off May 10, 2017.
Superstar writers Jason Aaron (Star Wars, The Mighty Thor) and Kieron Gillen (Star Wars: Darth Vader, Star Wars: Doctor Aphra) join forces once again to combine their two hit series for an epic crossover in the mighty Marvel manner! "We're so excited for The Screaming Citadel because it brings a whole new tone and feel to the Star Wars characters we know and love," says series Editor Jordan D. White. "The titular citadel is our version of the dark and mysterious castle on the hill, and our cast of rebels and rogues are the adventurers who face a stormy night exploring the darkness. Kieron and Jason write these characters so vibrantly, it's awesome to see them thrown into a new situation like this...get ready for a good one!" Rebel pilot and rogue archaeologist wander side-by-side into the darkest corners of the galaxy as Luke Skywalker reluctantly teams with Doctor Aphra! The good Doctor has an offer for this flyboy farm boy – help her, and she'll provide him with information crucial on his quest to become a Jedi. With an offer he can't refuse on the table, this unlikely duo finds themselves deep into the heart of the infamous Screaming Citadel! Can Luke find what he's looking for? Can Aphra be trusted? Or will the Citadel's Queen and the dark forces lurking within make their journey a one-way trip?!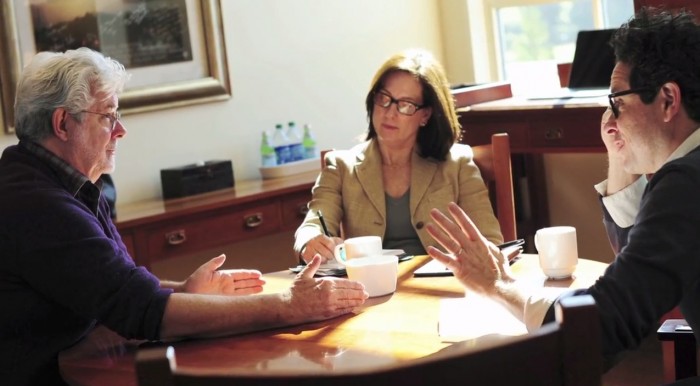 Meetings For Future Star Wars Spin-Offs Will Happen Soon
Spanish outlet eCartelera (via: SWNN) has a quote from Kathleen Kennedy from Celebration, talking about the development of Star Wars spin-offs beyond Episode IX. When asked about these spin-offs – with the rumored Obi-Wan Kenobi movie being specifically mentioned by the reporter, she gave the following answer (note: rough translation):
"To be honest, we are beginning to talk about [the spin-offs] right now. We have four or five weeks immersed in the film 'Han Solo' and we are about to read the script of Colin Trevorrow's Episode IX directed, so we have a lot of work at the moment. In the next six or eight months we will have some meetings about the stories that we will develop here. After 40 years of adventures, fans have so much information and so many theories about the way that can take these stories and theories that emerge are sometimes new ideas for us that we hear, read and pay attention to everything what is said. It is clear that the franchise is owned by the as much by the fans as it's owned by [the people at Lucasfilm]."
How Thrawn Was Promoted to Grand Admiral in an Alien-Hating Military
Han Solo Filming On The Canary Island of Fuerteventura
SWNN reports that the filming for the Han Solo film will take place over the course of three weeks on the Canary Island of Fuerteventura, specifically around Cofete and La Pared, a beach on the island. They are looking for some people who live on the island to appear as paid extras and/or support staff. Some are speculating that the beach could be a representation of Corellia or that maybe they are using some northern inland areas to replicate Tatooine.
Watch John Boyega Surprise Star Wars Superfans
And in case you missed it, Lucasfilm has released a new video promoting Star Wars: Force For Change — the charitable initiative from Lucasfilm and Disney that donates to the U.S. Fund for UNICEF in support of UNICEF Kid Power — featuring John Boyega surprising fans at Star Wars Celebration Orlando 2017.