The New 'Colossal' Trailer Features A Giant ... Spoiler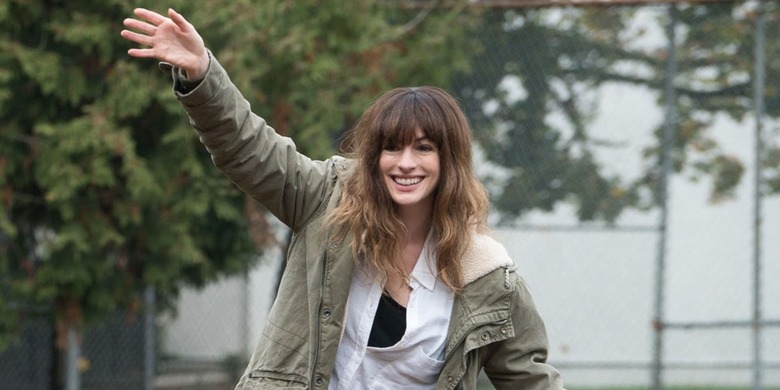 The premise of Colossal is so wacky and refreshing that every minute of it surprises you. A woman moves back to her hometown after breaking up with her boyfriend, and finds that she is somehow psychically linked to a giant monster wreaking havoc in Seoul. How it would follow up on such a unique premise? I admit I wondered that going into the film, but it delivered. And it worked so wonderfully because I had virtually no knowledge of the film going in — the marketing up until then had been ingeniously discrete and mysterious.
That may change for those who haven't seen Colossal yet, with the newest trailer released for the Anne Hathaway film. Don't read further if you don't want spoilers.
Up through the first third of the film, we're pretty familiar with the premise. Hathaway is an unemployed alcoholic whose boyfriend (Dan Stevens) breaks up with her and kicks her out of his apartment, forcing her to move back to her hometown. Soon after she moves home, a giant monster starts terrorizing Seoul, South Korea. Shockingly, she sees the monster imitate one of her own ticks — scratching the top of her head — and she realizes that she's psychically linked to the monster, able to control it when it appears in Seoul. She reveals it to her friends (Jason Sudeikis, Austin Stowell, Tim Blake Nelson), and chaos and comedy — presumably ensues.
That's all that has been revealed in previous trailers, and though it seems like a lengthy premise, it does not nearly foreshadow the surprisingly dark twists and turns that Colossal takes you through. But this newest trailer, seen below, kind of does.
Again, spoilers for Colossal in the trailer.
Colossal Trailer
Admittedly, some eagle-eyed movie fans may have noticed this giant robot in a new spoiler-y poster that released this week.
Thankfully the trailer doesn't reveal much beyond "there's a giant robot too! Ahhh!" but it's still a major plot point that acted as a great twist in the film.
So, why is Anne Hathaway's monster slapping the robot? And why are people saying it's a good monster? I cannot emphasize enough that you should see this whimsical treat of a movie. If not to find out why there's a giant robot, at least do it to tide yourself over until Pacific Rim: Uprising comes out and you can see some big-budget robots versus monsters.
Colossal is directed by Spanish director Nacho Vigalondo, and is currently playing in theaters.