'The Boondock Saints: Origins' Prequel TV Series Announced, They Want You To Pay $597.77 For It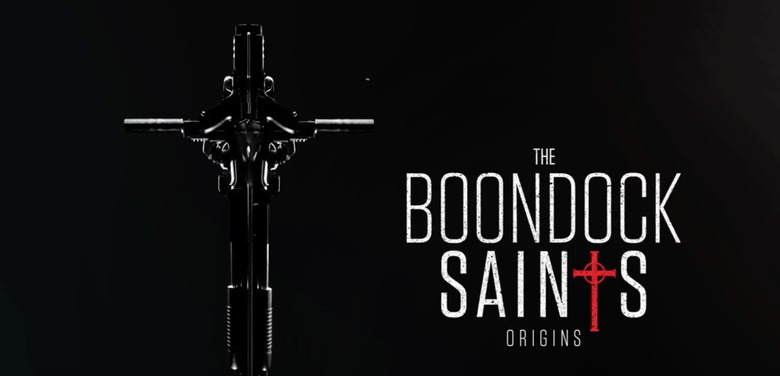 DCTV is reteaming with The Boondock Saints creator Troy Duffy to reboot the cult classic film franchise for television. They are basically trying to kickstart The Boondock Saints: Origins with an independent pre-sale campaign with ridiculous pledge options. Find out more and watch The Boondock Saints: Origins trailer, after the jump.
The 1999 film developed a cult following, which helped spawn a sequel, The Boondock Saints II: All Saints Day and a two-part comic book series. The television prequel television will be available to fans first via a pre-order initiative before it airs on television.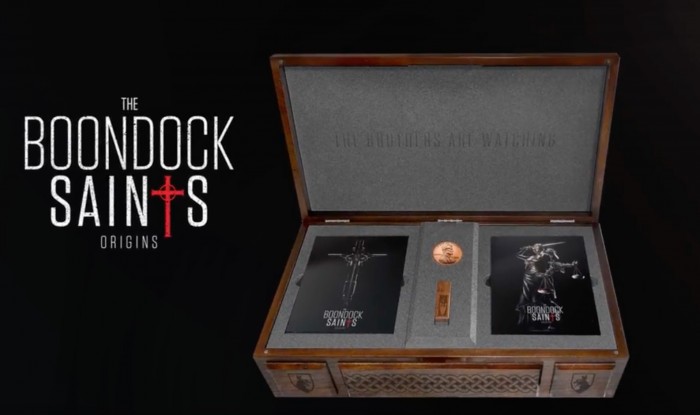 For $597.77 (they claim the MSRP will be $797.77), they are offering The Boondock Saints: Origins Collector's Box Set, which will include the first season of The Boondock Saints: Origins television series "ahead of ANY broadcast run on ANY network, cable, premium pay television or SVOD platform." The box includes:
The Limited Edition Collector's Box numbered, a DVD and USB Flashdrive Digital Download of Season One of The Boondock Saints: Origins, Commemorative Production Booklet, Limited Edition Signature Pennies, Baseball Hat, Sticker Set, Wall Decal, Temporary Tattoo Sheet, Bandana, Buff, Patches, Coldweather Beanie, 9" Lady Justice Polyresin Statuette, Lady Justice Bottle Opener, Shot Glass Bar Set, Flask, Official and Alternate Image posters (x2), Metal Cross Keychain, Motorcycle Club Kutte Patch Set, Fun Shapes Ice Cube Tray, Griffin Irish Whiskey Tumbler Set (of 2), Rosary Beads, 2018 Wall Calendar (13 Month), Playing Card Deck and Brothers 8" Action Statuettes (2 pieces).
The offer is only available until June 25th, 2017 and the price is limited to 5,000 copies. Six hundred bucks seems likes ridiculous amount even for what you get, and that price doesn't even include shipping and handling. Plus, we're talking about paying for a bunch of merchandise from a show that hasn't been made yet, which might not even be good.
Better yet, for $5000 you can get a golden ticket for two to the exclusive green carpet world premiere marathon screening and launch party on St. Patrick's Day weekend, 2018 in Boston. You can learn more about all the pre-sale options at BoondocksBack.com. I'm not against Kickstarter and crowd funding campaigns for movies and web series, but usually those offer less ridiculous pledge levels. I imagine anyone who has seen the documentary Overnight is getting a real kick out of this.
Not much information has been revealed at this point about the actual television series. There is a lot of information about the merchandise you can get by pledging but not much about the actual product you're helping to fund. But they did release the following teaser/fundraiser video:
The Boondock Saints: Origins Trailer: Campaign Video
The official press release follows:
TEAM BEHIND CULT CLASSIC FILM THE BOONDOCK SAINTS REUNITES FOR TV SERIES REBOOTExclusive Fan-Focused Pre-Order Campaign Kicks Off Today
TORONTO, CANADA (April 27, 2017) – Don Carmody Television (DCTV) today announced they have reteamed with The Boondock Saints creator Troy Duffy to revive the cult classic film franchise for television, with an exclusive fan-focused pre-order campaign of the newly reimagined installment – The Boondock Saints: Origins.
An American crime film written and directed by Duffy, The Boondock Saints first hit screens in 1999 and starred Sean Patrick Flanery and Norman Reedus as Irish immigrant fraternal twins, Connor and Murphy MacManus, who become vigilantes in order to rid their home city of Boston, Massachusetts of crime, evil and corruption. The film garnered more than $260 million in worldwide theatrical and DVD sales and has a robust social media presence of more than four million followers.
The television reboot campaign officially kicks off today with the launch of a fan-driven pre-sales initiative at BoondocksBack.com. In addition to DVD and digital download pre-orders of the series, fans of the franchise will have access to experiences, merchandise and a limited edition subscription box. Fans purchasing the offering will also gain access to exclusive bonus and behind-the-scenes content.
"The Boondock Saints has become an irreverent cult brand that has resonated with loyal fans across the globe for almost 20 years", said Don Carmody, Executive Producer and Chairman of DCTV. "We're beyond excited to reward our fans with an unprecedented opportunity to go behind the curtain throughout the entire creative development and production processes via a myriad of exclusive material, outreach and sneak peeks".
"A television series is the perfect medium for story telling inside the world of our beloved blue collar super heroes. The brothers have always been defenders of the people, justice, fairness and the city of Boston", says Creator and Executive Producer Troy Duffy. "In this sensitive time of human rights unrest, government scandal and civil corruption, there couldn't be a better moment to re-launch the brothers iconic brand of justice in the Cradle of Democracy".
"The Boondock Saints" television series will be executive produced by Duffy (Boondock Saints, Boondock Saints II: All Saints Day), Carmody and David Cormican of DCTV ("ShadowHunters," "Tokyo Trial," "Between," "The Secret Life of Marilyn Monroe.")
Carmody, a producer of the first two movies in The Boondock Saints franchise and the Academy Award winning Chicago and Good Will Hunting, as well as the Resident Evil and Silent Hill franchises, recently made the move in to producing television, including the Emmy nominated "The Secret Life of Marilyn Monroe" for Lifetime, "ShadowHunters" for Freeform and "Between" and "Tokyo Trial" for Netflix.
Additional producers, production team, showrunner and production details and worldwide casting calls will be released in the coming weeks as the campaign engages fans. The revamped logo design and branding for the television reboot has been made in association with Imaginary Forces, Ryde Studios and the producers.
About DCTV
Don Carmody Television (DCTV), is a partnership between entrepreneurs Don Carmody and David Cormican established in 2013, and is a division of Don Carmody Productions (DCP), one of North America's most successful producers of premium content since 1980. By enlisting top talent and participating in partnerships across the USA and worldwide, DCP has produced 100+ projects for cinema and television, including Best Picture Academy Award-winner® Chicago. Recent productions include Pompeii, Goon, Resident Evil: Retribution and The Mortal Instruments: City of Bones. DCP's productions have garnered over 100 national and international awards, including wins at the Golden Globes, Academy Awards and Emmys. Current original productions include "Tokyo Trial" and "Between" for Netflix, and "ShadowHunters" for Freeform and Netflix, along with the recent Emmy nominated mini-series "The Secret Life of Marilyn Monroe" for Lifetime.