'Alien: Covenant' Prologue Reveals The Fate Of The Survivors Of 'Prometheus'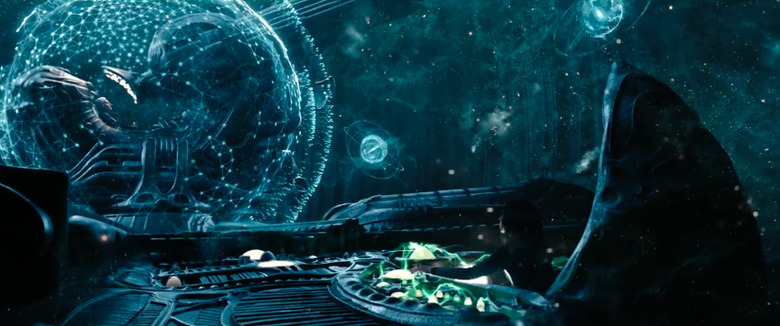 At the end of Prometheus, Elizabeth Shaw (Noomi Rapace) either makes a very brave or very foolish decision. After the doctor's search for humanity's creators goes horribly wrong, leaving most of the Prometheus crew dead, she continues to seek answers. Based on Shaw's lack of presence in the promotional materials for Alien: Covenant, her minimal role in the film, and the fact she's with David (Michael Fassbender), we're presuming her post-Prometheus mission doesn't go so well.
In a new Alien: Covenant prologue, titled "The Crossing," you can see Elizabeth and David hitting it off on their journey.
David has plenty of contempt for his makers. He doesn't think highly of humanity, but he respects Shaw (and her survival instincts) more than her now dead Prometheus crew members. At the end of the Prometheus, the two of them take off on an Engineer's vessel, which is the sole setting of the new prologue.
David did kill Elizabeth's boyfriend (Logan Marshall-Green), which, yes, did lead to Elizabeth being impregnated with a deadly little alien – it's all good now between her and David. The two get along just fine in the new Alien prologue, which has quite an ending:
Alien: Covenant Prologue
Those high-angle and low-angle shots of David get him to look almost like a God. Presumably, this is the planet the Covenant crew are going to, so perhaps David is the one who laid waste to it before their arrival. He seems to be up to no good on the planet, possibly experimenting and, maybe as he appears in this prologue, playing God.
The prologue is a reminder of how fantastic Michael Fassbender is as David. He's sinister and yet sometimes childlike. David is part T. E. Lawrence, part Roy Batty, but all Michael Fassbender. Does the droid grow closer to Elizabeth in the prologue, or is he playing her for whatever plan he has up his sleeve? We'll know come May 19th, once Alien: Covenant hits theaters.
Ridley Scott returns to the universe he created with Alien: Covenant, a new chapter in his groundbreaking Alien franchise. The crew of the colony ship Covenant, bound for a remote planet on the far side of the galaxy, discovers what they think is an uncharted paradise, but is actually a dark, dangerous world. When they uncover a threat beyond their imagination, they must attempt a harrowing escape.
Alien: Covenant stars Michael Fassbender, Katherine Waterston, Billy Crudup, Danny McBride, Demián Bichir, Carmen Ejogo, Amy Seimetz, Jussie Smollett, Callie Hernandez, Nathaniel Dean, Alexander England, Benjamin Rigby, and James Franco.
P.S. Happy Alien Day, everybody!