Tom McCarthy Might Direct Disney's 'Timmy Failure' Movie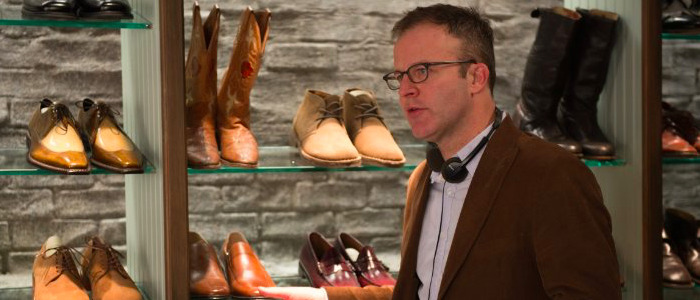 Tom McCarthy, the filmmaker behind Spotlight, Win Win, and The Cobbler may co-write and direct a film about an 11-year-old detective and his partner in crime, an imaginary polar bear. McCarthy is in talks to co-write and direct a live-action adaptation of Stephan Pastis' series Timmy Failure, which began in 2013 with "Mistakes Were Made."
Below, learn more about the Timmy Failure movie.
According to The Hollywood Reporter, McCarthy is in talks to co-write the Disney film with Pastis. The project hails from producer Jim Whitaker, who produced last year's beautiful Pete's Dragon remake and next year's A Wrinkle Time. THR writes the tone of the Timmy Failure isn't dissimilar from the Diary of a Wimpy Kid series, which is a common comparison.
The first book, Timmy Failure: Mistakes Were Made, was a New York Times bestseller and led to five other books about the clueless young detective, including The Cat Stole My Pants and The Book You're Not Supposed To Have.
Here's a little more info on Timmy and the first book in Pastis' series:
"MY NAME IS FAILURE. TIMMY FAILURE. I AM THE FOUNDER, PRESIDENT AND CEO OF THE BEST DETECTIVE AGENCY IN TOWN, PROBABLY IN THE WORLD. TIMMY FAILURE: MISTAKES WERE MADE IS A HISTORICAL RECORD OF MY LIFE AS A DETECTIVE. IT HAS BEEN RIGOROUSLY FACT-CHECKED. ALL THE DRAWINGS IN HERE ARE BY ME. I TRIED TO GET MY BUSINESS PARTNER TO DO THE ILLUSTRATIONS, BUT THEY WERE NOT GOOD."
Take Timmy Failure—the clueless, comically self-confident CEO of a budding investigative empire. Add his impressively lazy business partner, a very large polar bear named Total. Of course, his plan does not include the four-foot-tall female whose name shall not be uttered. And it doesn't include Rollo Tookus, who is so obsessed with getting into "Stanfurd" that he can't carry out a no-brain spy mission. Or Molly Moskins, who smells like a tangerine and is crazy about Timmy, making her his obvious (and only) prime suspect.
Timmy Failure reads a bit like a kid version of Inspector Clouseau from The Pink Panther film franchise. The kid-friendly project would be a deviation from McCarthy's directorial work, but some of his writing credits show Timmy Failure is right up his alley. He has a good relationship with Disney, having worked on Pixar's Up, Million Dollar Arm, and the Winnie the Pooh reimagining, Christopher Robin, which Marc Forster (Quantum of Solace) is set to direct. McCarthy also has a great sense of humor that would probably compliment the story of a young detective and his polar bear pal well.