'The Exception' Trailer: Jai Courtney Stars In A Nazi Love Story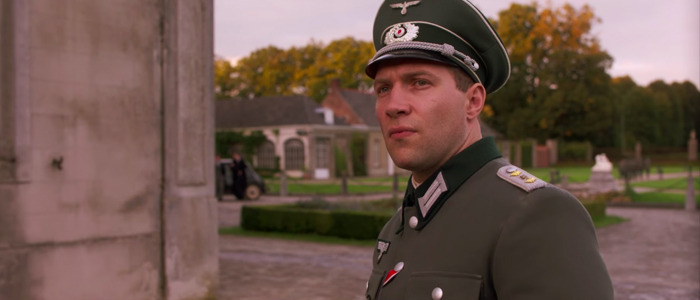 Maybe if I'd seen the Starz show Spartacus: War of the Damned, I'd be on board the Jai Courtney train. But aside from a halfway decent performance in the first Jack Reacher movie and the weirdness of his Captain Boomerang in Suicide Squad, I haven't seen much from the guy that warrants his level of stardom.
But maybe he's better in smaller films than blockbusters. Let's test that theory by taking a look at the trailer for a new World War II thriller called The Exception, which stars Courtney as a Nazi soldier who falls in love with a Jewish girl played by Baby Driver's Lily James. Watch The Exception trailer below.
The Exception trailer
With apologies to the un-ironic super-fan #jaibless crowd on Twitter, I'm still not seeing a spark from Courtney here. There are only so many times I can justify seeing a wooden performance by saying, "Oh, the character is supposed to be like that" before I start to wonder if it's actually the guy himself who just doesn't do it for me.
But this wouldn't be the first time a trailer has concealed a terrific performance – not every movie can be marketed like Fences, where's a studio is clearly selling an all-out acting masterclass by highlighting its showiest moments beforehand. Still, for a film that's centered on the humanity of a forbidden relationship in dangerous times, I'd like to see a bit more of the character's soul shine through.
Award-winning stage director David Leveaux is making his feature film debut behind the camera here, and he at least believes Courtney has the goods. In an interview with USA Today, he explained:
"To have a credible Brandt, you had to have a man who was believably a combat soldier, somebody who's instantly alpha male — in other words, he couldn't be Hamlet from the beginning but more like Macbeth. It's one thing to play a cast-iron hero from beginning to end but it's quite another to play one who actually becomes authentically vulnerable — at a really inconvenient moment for him."
If Courtney can't entirely hold this one up on his shoulders alone, he's aided by a solid supporting cast including Christopher Plummer (who's playing a fascinating inversion of his Sound of Music character here as a former German Kaiser), the always-capable Lily James, and the reliably strong Eddie Marsan.
What do you think? Am I being too harsh on Courtney, or do you see greatness in him? Will it even be possible for audiences to sympathize with a Nazi character in 2017, considering the recent resurgence of actual Nazis in our real political landscape?
The Exception arrives on DirecTV this Thursday and hits theaters on June 2, 2017.