Taissa Farmiga To Star In 'The Conjuring 2' Spin-Off 'The Nun'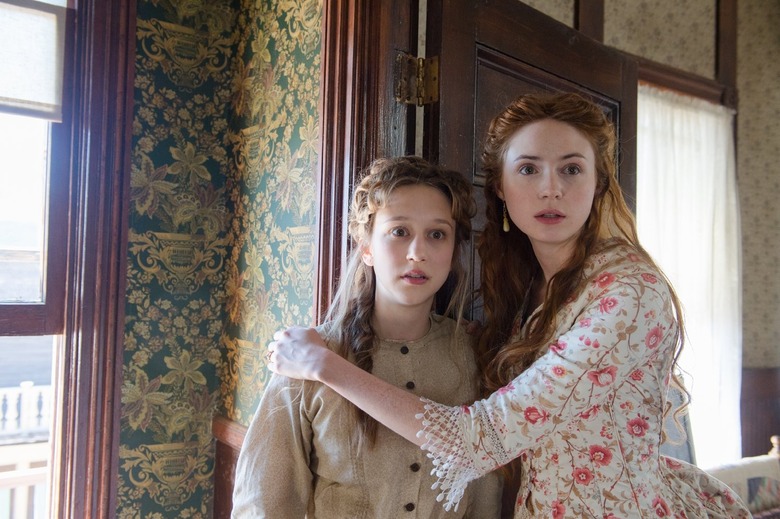 Like its franchise-starting predecessor, The Conjuring 2 paved the way for a spinoff called The Nun. Now the new horror title has become a family affair with The Conjuring star Vera Farmiga's sister, Taissa Farmiga of The Final Girls, signing on to star in the spinoff.
Below, learn more about The Conjuring 2 spin-off.
Deadline got the scoop on Farmiga's casting, but plot details are still scarce. Farmiga will star opposite of Demian Bichir, who we'll probably see live happily ever after in next month's Alien: Covenant. Bichir plays a priest who goes to Rome to look into the death of a nun, perhaps the nun. The story is a prequel James Wan co-wrote with Gary Dauberman. Dauberman also penned the monstrous box-office hit Annabelle and its upcoming sequel, Annabelle: Creation.
The Nun was a wise last-minute addition to The Conjuring 2. Three months before the sequel opened in theaters reshoots were conducted. Originally in The Nun's place was a demon with horns, but then Wan imagined the creepy nun and pitched replacing the horned figure to New Line.
The studio approved the idea, hired Bonnie Aarons to play the Nun, and Wan shot a new scene: Lorraine Warren (Vera Farmiga) coming face-to-face with the villain. As for Ed Warren's delightful and flattering portrait of the character, that was a digital alteration of the original painting of the horned demon. It's a great scene and a good laugh watching Ed casually paint a spot-on portrait of the nun in the kitchen.
The addition of Farmiga is good news for the horror spinoff. It now has two exceptional leads with Bichir and Farmiga. She brings a lot of heart to the horror-comedy, The Final Girls, and an equal amount of charisma to Ti West's highly enjoyable western, In a Valley of Violence. Farmiga is currently working on Elizabeth Chomko's What They Had, starring alongside Michael Shannon.
Once that drama wraps, she'll presumably begin work soon on The Nun, which has a promising director attached. Corin Hardy created a sense of history, a few real scares, and some unsettling monsters with his debut, The Hallow. Sometimes it wore thin, but it's got some memorable and chilling images. After his first feature, it wasn't much of a surprise he was hired for the still struggling remake of The Crow (which he left) and Hellbent, the story of a group of mercenaries trying to assassinate Satan in Hell.
The Nun opens in theaters July 13, 2018.