Martin Scorsese Might Make A Movie With Leonardo DiCaprio And Robert De Niro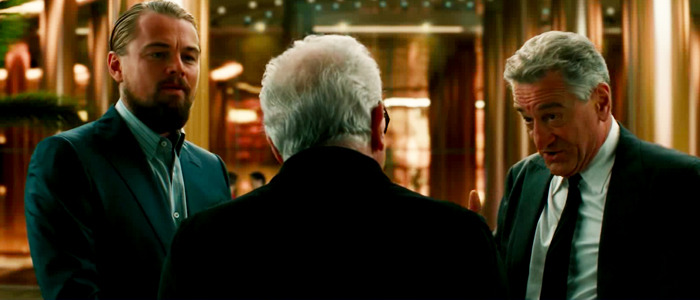 If Martin Scorsese, Leonardo DiCaprio, or Robert De Niro become involved with a new movie, cinephiles perk up. Well, maybe not as much for De Niro in the past few years, but with The Wizard of Lies on the way, maybe that'll change. When all three of those guys are mentioned as possible collaborators on the same project? That could be cause for a full-on celebration.
The film in question is a new thriller called Killers of the Flower Moon, and all three men are reportedly interested in coming on board. Read on to learn everything we know so far.
Deadline has the news about the potential team-up, and they stress that none of the men are currently attached but all three are "seriously considering" joining the movie. Oscar-winning writer Eric Roth (Forrest Gump, The Insider) wrote the screenplay based on The Lost City of Z author David Grann's book, Killers of the Flower Moon: The Osage Murders and the Birth of the FBI, and the script sparked a bidding war that resulted in Imperative Entertainment locking it down for a cool $5 million. Here's Deadline's description of the new book:
Grann's Killers Of The Flower Moon, which bows this week from Doubleday, tells the true crime story about multiple murders of members of the Osage Indian tribe in Oklahoma that occurred after they found oil on their lands. It is about conspiracy, greed and murder in the Indian nation — so bad the federal government had to step in. It also chronicles the rise of J. Edgar Hoover, who led the investigation into the murders and ended up making a name for himself.
That's fascinating for a number of reasons: we don't often see stories about Native American tribes, and the oil angle sounds relevant to what's currently happening with the Dakota Access Pipeline. These are large issues that could be given a nice spotlight by three huge names telling a true story about that group of people – not to mention the opportunity for Scorsese to cast Native American actors in significant roles, another thing that sadly doesn't happen very often.
And looking at it purely from the film side of things, this is intriguing because DiCaprio himself has already starred in a movie about one of this film's major players. Remember Clint Eastwood's 2011 movie J. Edgar? No one else does, either, but the idea that DiCaprio is interested in this makes me wonder if he's looking to take a second swing at that role. Either way, it'll be a fun piece of trivia if these three eventually end up joining forces for this film.
Scorsese and De Niro first worked together on 1973's Mean Streets and continued their relationship through the '90s, wrapping up with Casino in 1995. DiCaprio became the director's go-to guy starting with Gangs of New York in 2002, and he's headlined five movies for him so far. The only time all three have collaborated thus far has been for a short film called The Audition, which was essentially a mega-budget commercial for some casinos in Macau. Take a look at a trailer:
As far as we know, DiCaprio and Scorsese are still developing a movie adaptation of The Devil in the White City, while De Niro and Scorsese are looking to reteam (along with Al Pacino and Joe Pesci) for Netflix's The Irishman.