'Avengers 4' Title Is A Spoiler For The Events Of 'Infinity War'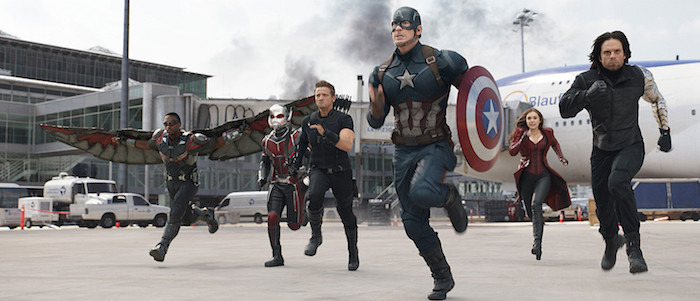 With the Marvel Cinematic Universe meticulously planned for the next three years, why is Marvel starting to balk at revealing something as inconsequential as a title? Maybe because it's not so inconsequential.
Avengers: Infinity War is deep in production right now, but very little is known about its follow-up, known only as Avengers 4 — nor is much known about next wave of movies, or "Phase 4," that the film is supposed to kick off. Now, Marvel Studios president Kevin Feige is hinting that the title for Avengers 4 has yet to be revealed because it's a major spoiler for the events of Infinity War. As for Marvel's Phase 4? Feige doesn't even know if it should be called that.
The fourth Avengers film and the 22nd film in the Marvel Cinematic Universe, Avengers 4 was originally titled Avengers: Infinity War Part II, presented as an immediate follow-up to 2018's Infinity War.
But after Anthony and Joe Russo signed on to direct both Avengers sequels, that subtitle was removed from the film. With news that Avengers 4 will not be filmed in conjunction with Infinity War — which would have been done if it was still the second in a two-parter — it lives up to Feige's insistence that the two are completely different movies.
In an interview with Cinemablend, Feige cryptically spoke on Infinity War's connection to Avengers 4:
"They're two very different movies. That's all I'll say."
When asked if the conspicuous lack of a subtitle had to do with potential spoilers for Infinity War, Feige responded, "Yeah, for sure."
It's a lot to read into, but up until now, Marvel has been almost painfully transparent about their film and TV plans, announcing schedules and Phases five to 10 years ahead of time. With the events of the past three Phases coming to a head with the face-off against the MCU's ultimate Big Bad, Thanos, the future of the Marvel movies after Infinity War is unclear.
Feige is vague on whether the fourth Phase starting with Avengers 4 can be called Phase 4 at all. In an interview with Collider he spoke about the future of the MCU, and admitted that the next two Avengers films will give a sense of conclusion to the MCU.
"Certainly as we get to Infinity War there is a sense of a climax if not a conclusion to, by the time we're at untitled Avengers 4, the 22 movies that will have encompassed the first three phases of the MCU. And what happens after that will be very different. I don't know if it's Phase 4, it might be a new thing."
What does this mean? Does this mean the end for the MCU proper and the Marvel movies will diffuse into separate solo films, never to team up again? Probably not...even though the key reason for a major team-up will be diffused once the dust has settled after the next Avengers movies. The build-up since Iron Man flew into theaters in 2008 and jump-started the MCU has been of getting the Avengers together, breaking them apart, and ultimately bringing them together to battle Thanos over the Infinity Stones — which have been scattered throughout the cosmos and nearly every MCU solo and team-up film. With that end-goal supposedly no longer a factor after Infinity War, what do the Avengers have to avenge?
We won't know much until Infinity War hits theaters May 4, 2018, assembling both the members of the Avengers as well as the Guardians of the Galaxy. The expansive confirmed cast includes Robert Downey, Jr., Chris Evans, Chris Hemsworth, Mark Ruffalo, Jeremy Renner, Scarlett Johansson, Tom Holland, Elizabeth Olsen, Paul Bethany, Sebastian Stan, Benedict Cumberbatch, Benedict Wong, Chris Pratt, Zoe Saldana, Karen Gillan, Vin Diesel, Dave Bautista, Bradley Cooper, Pom Klementieff, and Josh Brolin as Thanos.
Meanwhile Avengers 4 will follow Infinity War in theaters soon after, dropping on May 3, 2019.