Cool Stuff: Life-Size Baby Groot Replica From Hot Toys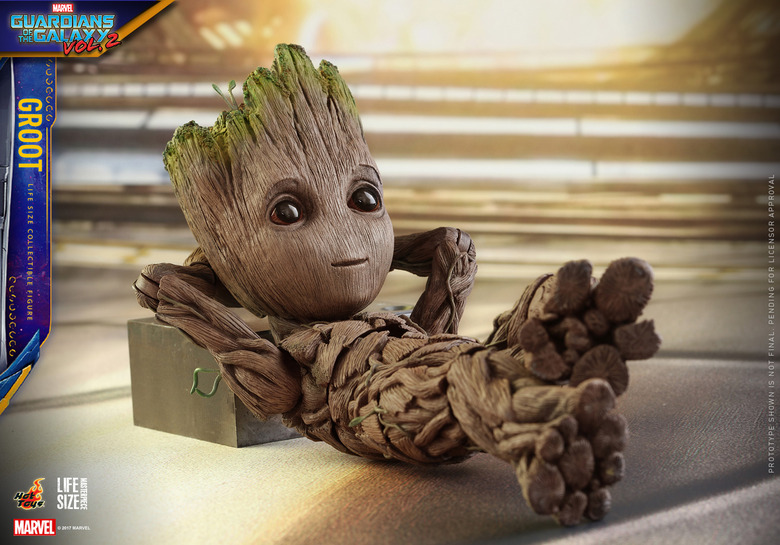 When I was on the set of Guardians of the Galaxy Vol. 2, we were talking to the propmaster Russell Bobbitt who was letting us wear Starlord's headphones when I asked "are there any cool new props we can see from this movie?" He knew exactly what I would want to see. He turned on his radio and made that call "Bring out Baby Groot". A security guy comes over with a big security case which he unlocked with a key and carefully opened up. Inside was a life-size scale model of Baby Groot. "You want to hold him?" Bobbitt asked. I did.
I know some of you have already seen how cute Baby Groot is in the trailers for the film, but imagining seeing him for the first time in your arms. He looked so real, or as real as he possibly could. Some green moss was even growing out of the top of his head. I commented then, "if someone sells a life-size replica of this, I'll probably have to buy it." Well, that day has come. Hot Toys has announced they will be making a life-size Baby Groot replica. Hit the jump to see photos and to learn more about the release.
Hot Toys Life-Size Baby Groot Replica Photos
Here is the announcement from Hot Toys:
"I am Groot!" Since the debut of promotional materials from Marvel Studios' highly anticipated blockbuster, Guardians of the Galaxy Vol. 2, fans were instantly thrilled and captivated by the return of Groot, who has now grown a bit since we last saw him at the end of the first movie! Attendees of the Guardians of the Galaxy Vol. 2 world premiere all expressed their huge love for Groot after seeing the movie. Today Hot Toys is extremely excited to introduce the Groot life-size collectible figure which is destined to be one of the most adorable Hot Toys life-size figures you'll ever see!
The Guardians of the Galaxy Vol. 2 Groot life-size collectible figure stands approximately 26cm tall, featuring 3 interchangeable faces, newly developed body and expert paint applications to reflect BabyGroot's unique appearance, a Ravagers outfit that be worn on the figure, and 2 pairs of interchangeable hands including a pair of extended attacking hands with embedded wires allowing a variety of poses! Don't be afraid to push the button and bring this charming and lovableGroot life-size collectible figure home to your collection!
The Baby Groot replica is part of Hot Toys' Life-Size Masterpiece Series. Featuring the authentic and detailed likeness of Groot in Marvel Studios'Guardians of the Galaxy Vol. 2. The replica stands approximately 26cm tall, and features three interchangeable face sculpts with highly detailed facial expressions and tree texture. The newly developed specialized body features over 15 points of articulation.
He also comes with four interchangeable hands including, a pair of relaxed hands, a pair of attacking hands with embedded wires. Each piece of face sculpt is specially hand-painted. It also comes with a finely tailored interchangeable Ravagers outfit and a specially designed figure stand with character nameplate and movie logo. The figure is sculpted and painted by Viva Lai
Unfortunately, the Hot Toys Baby Groot replica won't be available until the first or second quarter of 2018.