The 'Guardians Of The Galaxy' Team Line-Up Will Evolve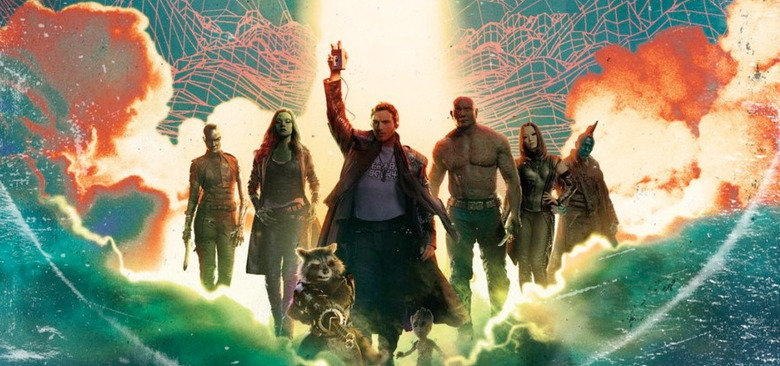 Star-Lord (Chris Pratt), Gamora (Zoe Saldana), Drax (Dave Bautista), Rocket Raccoon (Bradley Cooper), and Groot (Vin Diesel) make for a great team in Guardians of the Galaxy. They work so well together it's hard to imagine one without the other. We may see them disband at some point, though, and maybe after Guardians of the Galaxy 3, which Gunn called the other day "the end of this iteration of the Guardians of the Galaxy."
Below, learn more about a possible change-up for the Guardians of the Galaxy team that's likely very far off into the future.
Chris Pratt can't play Star-Lord forever, so it's somewhat inevitable the Guardians will get a new team at some point. The Guardians of the Galaxy don't exactly need to be Star-Lord, Groot, and Gamora to be the Guardians of the Galaxy. Even in the sequel, the team adds some free agents to their band, including Gamora's adopted sister, Nebula (Karen Gillan), Mantis (Pom Klementieff) and Yondu (Michael Rooker).
What's to stop a few additions and substitutes from making up the Guardians crew in movies after Guardians Vol. 3? These new additions are who executive producer Jonathan Schwartz is clearly referring to in the quote below. He also says that "the makeup of the Guardians will evolve":
There will be new members by the end of the movie. And allies who maybe aren't with them at the end of the movie necessarily, [and who] go off on their own adventures. But the makeup of the Guardians will evolve.
Since Vol. 2 doesn't come out for another two weeks, Schwartz's comment is understandably a bit vague. He said it himself, though: the team will evolve. The Guardians are just as capable of growing and changing like the Avengers, which sounds like Marvel's plan. After all, every superhero team rotates its rosters in comic books. That's just how it works. They'll keep on making Avengers movies long after the current roster is gone, so the same thing could happen with the Guardians.
For now, let's just be happy they got the team right in the first place and continue to look forward to the second movie, which is being firmly embraced by the few who've seen it. Here's the official synopsis for Guardians of the Galaxy Vol. 2:
Set to the backdrop of 'Awesome Mixtape #2,' Marvel's Guardians of the Galaxy Vol. 2 continues the team's adventures as they traverse the outer reaches of the cosmos. The Guardians must fight to keep their newfound family together as they unravel the mysteries of Peter Quill's true parentage. Old foes become new allies and fan-favorite characters from the classic comics will come to our heroes' aid as the Marvel cinematic universe continues to expand.
Guardians of the Galaxy Vol. 2 opens in theaters May 5.