'The X-Files' Is Coming Back (Again) For A 10-Episode Season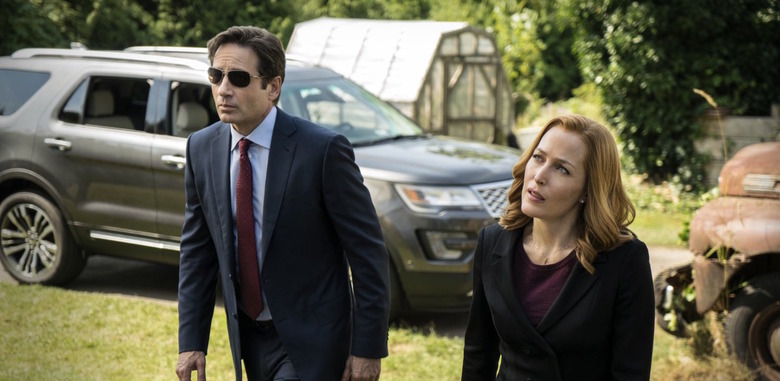 The truth is still out there. And Mulder and Scully are coming back for The X-Files season 11 to find it.
Fox has ordered a 10-episode season of the legendary sci-fi show, following last year's six-episode limited series, which arrived 14 years after the show ended its initial run.
David Duchovny and Gillian Anderson will return to play Fox Mulder and Dana Scully, the iconic FBI agents who investigate the paranormal, according to Variety.
The newest season, which is slated to start production this summer and will air during the 2017-2018 season, reunites them with series creator and showrunner Chris Carter, who also was responsible for last year's hot mess of a 10th season.
Much hoopla was made over the Season 10 "revival" of The X-Files, which saw the show return to TV screens for the first time since season 9 season ended in 2002 and after the last film The X-Files: I Want to Believe hit theaters in 2008. Despite the anticipation, Carter and co. failed to deliver, offering up bargain-store nostalgia and convoluted mythology episodes. And that weird Were-Man episode. The limited series run was met with lukewarm reviews, with many criticizing The X-Files for exemplifying everything wrong with reboot culture.
Perhaps an 11th season — which would be a relief since the 10th season ended on a frustrating cliffhanger — will balance out some of good-to-mostly-disappointing episodes that we received last year.
David Madden, president of Fox, seemed to ignore the middling reviews that last year's revival was met with, instead emphasizing the show's legacy and its pop culture phenomenon status.
"Iconic characters, rich storytelling, bold creators – these are the hallmarks of great TV shows. And they are some of the reasons why The X-Files has had such a profound impact on millions of fans worldwide," said Madden in a statement released with the 11th season announcement. "Chris' creativity, along with the brilliant work of David and Gillian, continue to propel this pop culture phenomenon, and we can't wait to see what fresh mysteries Mulder and Scully uncover in this next chapter of The X-Files."
This won't be the first mini-reunion of Mulder and Scully in recent days, as an audio book recounting their adventures between 2008's The X-Files: I Want to Believe and 2016's 10th season will be dropping in July.
Fans can temporarily satisfy their search for the truth with the audio book and with this teaser art for the next season of The X-Files.