'Disjointed' Teaser: Kathy Bates Wishes You A Happy 4/20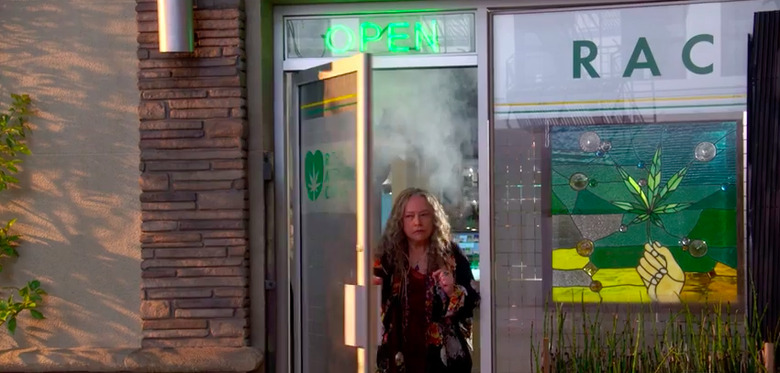 To celebrate 4/20, Netflix announced the premiere date of Disjointed, a "half-baked" drama starring Kathy Bates as the proud owner of a cannabis dispensary. Chuck Lorre (The Big Bang Theory) and the former head writer of The Daily Show, David Javerbaum, co-created the series, which is available to stream starting this August.
Below, watch a Disjointed teaser.
Here's the logline from Netflix: "A modern twist on the American Dream, Disjointed is a story of the highs, the lows, and half-baked drama of a family-run marijuana dispensary." Watching Kathy Bates high and chilling at her shop does sound delightful, but it's also easy to imagine Disjointed getting real broad real fast.
Lorre is, after all, the creator of The Big Bang Theory and Two And A Half Men. His style of comedy isn't for me, but it does work for millions of people. Before the script got a rewrite from Lorre and Javerbaum, Deadline described the series as "The Big Bang Theory, if the guys were not geniuses but selling weed."
The teaser doesn't tell us much about his new series. It is only 20 seconds long, so all you get is a look at Kathy Bates' character, Ruth Whitefeather Feldman, and her nice and green dream store:
In the half-hour series, Ruth spends most of her days with her son (Aaron Moten), three budtenders, played by Elizabeth Ho, Elizabeth Alderfer, and Dougie Baldwin, and a troubled security guard and army vet (Tone Bell). They all star in the first 20 episodes of Disjointed, available to stream August 25.
Bates previously guest starred on one of Lorre's shows, Two and a Half Men, for which she won an Emmy. Her new role is all about achieving the American dream. "Kathy plays Ruth Whitefeather Feldman, a woman whose lifelong mission has been to decriminalize marijuana," Lorre told Variety. "She's something of an icon in that movement. The series is about what happens when that mission is accomplished. She is faced with running a legal cannabis establishment with her son and a staff of young budtenders. Business, family, and romance are difficult — they're harder stoned." Not a bad pitch.
Not a bad pitch.
Ruth Feldman isn't the only character we've seen this week who's exceedingly 4/20 friendly. Scoot McNairy played one dangerous stoner in the season 3 premiere of Fargo, while Armie Hammer is a blast to watch as he lights up some joints in Free Fire. These characters may soon be forgotten by those celebrating today, but the big and small screen could always use more convincing and less outlandish portrayals of potheads, so let's call this week a win all around for cannabis enthusiasts.
Season one of Disjointed is available to stream August 25.