'Lost In London' Trailer: Woody Harrelson's Live Movie Is Here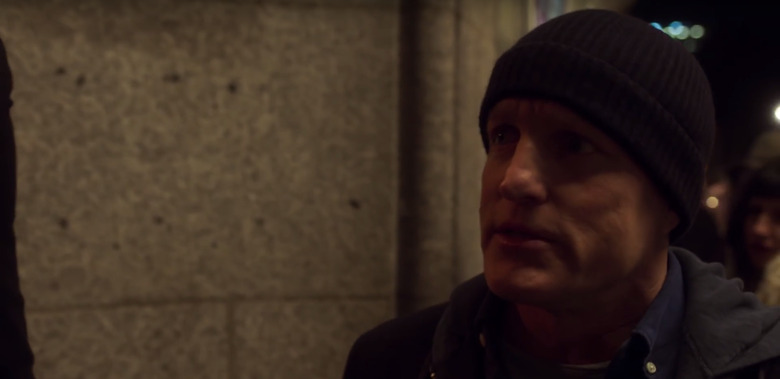 Woody Harrelson has long proven himself to be a multi-talented actor with a decades-spanning career — first achieving fame with the massively popular sitcom Cheers, and going on to do everything from radical violent fare like Natural Born Killers, to comedies like White Men Can't Jump. He's known today as an established actor who brings gravitas to blockbusters like The Hunger Games or stretches his chops in prestige television like True Detective. There's no denying that Harrelson is a successful, gifted actor.
But earlier this year, he had to one-up himself with a movie experiment never done before: Harrelson wrote, directed, produced and starred in a movie that was broadcast live to movie theaters called Lost in London. And now the trailer is out for the wide release of Harrelson's personal experimental film.
Taking place over the course of one night, Lost in London was filmed with a single camera in one take — following Harrelson on a night out on the town. Harrelson broadcast the in select theaters while filming it live on January 19, 2017 in one night in London.
Based on a true experience Harrelson had in 2002, the film finds him learning that he's the subject of the latest celebrity tabloid scandal. His wife finds out and, believing he cheated on her, publicly confronts and fights with him. The events escalate from there, with Harrelson going through a series of bad to worse situations as the night wears on. He's denied entry to a club after a bouncer fails to recognize him, even after Harrelson name-drops his early popular films like White Men Can't Jump and Indecent Proposal, even shutting Harrelson down after he tries to sing the Cheers theme song. He gets berated and insulted by Owen Wilson (playing himself), gets beaten up, causes a scene in a taxi, and — to cap off the night — gets arrested.
Three months after its initial groundbreaking live screening, we're getting the trailer for a presumed standard release. Even without the novelty of seeing it as it was filmed live in theaters, I would still watch this movie — it has all the elements of quirky comedy and Hollywood narcissism that I enjoy in a Harrelson movie.
There are no details yet on a wide release of the film, but Harrelson will be taking Lost in London on a U.K. exclusive tour "soon," according to the trailer. Perhaps Harrelson will continue the film's experimental nature and do more live shooting to add to the movie, but who knows. For now, we'll just have to enjoy the madcap trailer.