'Guardians Of The Galaxy Vol. 2' Has 5 Post-Credits Scenes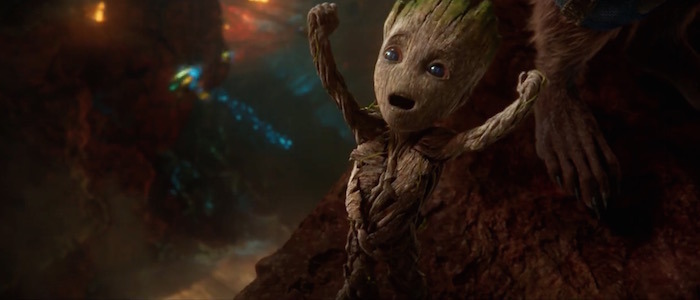 Any Marvel fan knows to stick around after the credits roll, but you may have to hold your bladder for a little bit longer when you see Guardians of the Galaxy Vol. 2.
Director James Gunn — who recently announced that he'll be returning to the franchise to direct Guardians of the Galaxy Vol. 3 — confirmed on Twitter that there are not one, not four, but five post-credits scenes in the sequel to his 2014 hit.
Five post-credits scenes is a record-setter for not only Marvel Cinematic Universe movies, but superhero movies in general. But like the famous Groot dance scene from the last Guardians of the Galaxy, most of those tag scenes are silly one-offs. Four of the button tags are mid-credits bonus scenes, which Gunn promises are mostly for fun and laughs — and there's an additional one at the very end too. But at least two of the scenes set up important details for the future.
And because this is a Marvel film, don't forget to watch out for that Stan Lee cameo.
Marvel movies revolutionized the post-credits sequence, which — until Iron Man beguiled viewers with a brief, mysterious scene of Samuel L. Jackson introducing Tony Stark to something called "The Avengers Initiative" — had mostly been associated with comedy movies as a last-minute gag.
Since then, post-credits scenes have taken off in superhero and blockbuster movies, used by directors to hint at ever-expanding universes and rich backstories. Only recently have they taken on their comedic edge again, with Joss Whedon forgoing the information-heavy post-credits tag (though he did have his obligatory brief Thanos scene), in favor of that famous shawarma sequence.
Early social media buzz for the anticipated sequel has been positive so far, with many critics calling it a worthy follow-up to the first Guardians of the Galaxy, and a refreshingly bright and vivid space romp.
Guardians of the Galaxy Vol. 2 is written and directed by James Gunn and stars Chris Pratt, Zoe Saldana, Dave Bautista, featuring Vin Diesel as Baby Groot, Bradley Cooper as Rocket, Michael Rooker, Karen Gillan, Pom Klementieff, Elizabeth Debicki, Chris Sullivan, Sean Gunn, Tommy Flanagan, Laura Haddock, with Sylvester Stallone, and Kurt Russell. Kevin Feige is producing, and Louis D'Esposito, Victoria Alonso, Jonathan Schwartz, Nikolas Korda and Stan Lee are the executive producers.Guardians of the Galaxy Vol. 2 flies into theaters May 5.
And because we're here, let's watch the Baby Groot dancing scene again.