Early Buzz: 'Guardians Of The Galaxy Vol. 2' Is Funny, Surprising & Emotional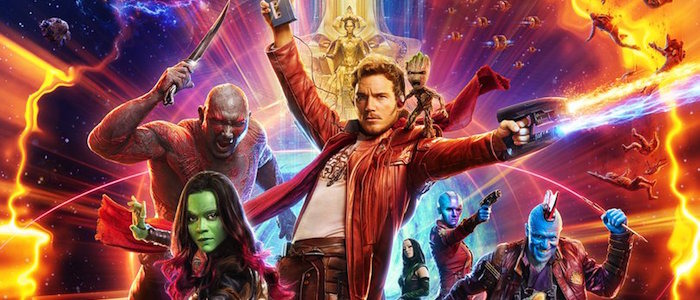 The first press screenings of Guardians of the Galaxy Vol. 2 were held on Monday night in Los Angeles and New York. While full reviews are embargoed until April 24, the first spoiler-free reactions have been posted online. Read on to find out what the critics think about James Gunn's Marvel sequel.
Guardians of the Galaxy 2 Reviews: Early Twitter Reactions
Peter Sciretta: Guardians of the Galaxy Vol. 2 is funnier than the original, has a ton of surprises, and an unexpected emotional profoundness. Mantis and Drax steal the movie. James Gunn pushes the boundaries of both Disney and Marvel. The music on Awesome Mix 2 is great and has some deeper tracks than Vol. 1. I'm not sure if it's better than the original, but it's definitely a winner. I am Groot.Angie Han: I say without hyperbole: #GotGVol2 is MCU at its very best. Grand adventure with intimate stakes. Uses every damn color in the crayon box. Baby Groot is cuter than you can possibly imagine, Star-Lord reminds me why I liked Pratt, but YONDU is the real standout. #GotGVol2 is a movie to watch with your best friends, your family, your significant other: the people who make you feel at home.Germain Lussier: Guardians of the Galaxy Vol. 2 is filled with tons of surprises and an unexpected amount of emotion. Another Marvel winner. [Is it better than Vol 1?] Hard to say on first viewing. I certainly liked one more on first viewing, but this has layers that will grow on you.Steven Weintraub: GUARDIANS OF THE GALAXY 2 kept a smile on my face from beginning to end. Funny, action packed, emotional, and tons of surprises. Thumbs up.Erik Davis: GUARDIANS OF THE GALAXY VOL. 2 is exciting, funny, gorgeous & a helluva tearjerker. For many, it will become their new favorite Marvel movie. There's more beauty & depth & '80s love in GUARDIANS VOL. 2 than any of the Marvel movies. It's like a water-color acid trip full of awesome. Also, there are more than two post-credits scenes in #GuardiansoftheGalaxyVol2, so stay in yo seats. And watch the credits closely! Props to @JamesGunn for the CHEERS references & the Sam Cooke. Sometimes it's the little things that make a movie for me.Mike Ryan: GUARDIANS OF THE GALAXY VOL 2. is very fun. Takes the EMPIRE "split up your characters" strategy. Drax is a hoot. Baby Groot steals the show. Also: Come for the movie, stay for the not one, not two, not three, but *four* post credit scenes.Haleigh Foutch: Guardians of the Galaxy Vol. 2 is a whole heap of fun. Gorgeous, a bit mad, and surprisingly emotional. And yes, Baby Groot is everything.Umberto Gonzalez: Just got out of seeing #GotGVol2 My goodness what an experience! Absolutely loved it & you guys will too! Can't wait to see again!Eric Eisenberg: Had tons of fun with Guardians of the Galaxy 2. Incredibly funny, beautifully colorful, and great continuations of the heroes. Super happy!Silas Lesnick: The first film set a very, very high bar and I'm thrilled to report that #GuardiansoftheGalaxyVol2 does not disappoint in the slightest!Ash Crossan: I feel like I just escaped into space for hours and didn't have a care in the world. #GotGVol2Dan Casey: Holy smokes was Guardians of the Galaxy, Vol 2 fun! I had a smile plastered on my face nearly the whole time. Tons of Easter eggs too.Jeff Goldsmith: Really loved @Guardians of the Galaxy vol. 2 – great sense of humor & quite a fun film to watch as well! Can't say more until embargo breaksLuis Lecca: Guardians of the Galaxy: Vol. 2 was so much AWESOME your head will explode. I MUST WATCH IT AGAIN!Brandon Davis: Damn. I loved Guardians of the Galaxy Vol. 2. @JamesGunn is a hero, and surprise faces steal the show.Anna Klassen: GUARDIANS OF THE GALAXY VOL 2 is a lot of fun. Action-packed & even more classic '70s/early '80s music cues.Daniel Alter: Marvel always wins. Always. #GotGVol2 What a ride. What an emotional movie. What great characters. They're just getting started.Aaron Couch: Don't think I've heard so much laughter at a press screening. People seemed to really be digging Guardians Vol. 2. Can't say more (yet)
There are however a few people who didn't seem to love the movie:
Jeff Sneider: Hate to be the Voice of Reason, but GUARDIANS OF THE GALAXY VOL. 2 isn't as good as the first. What felt fresh now feels forced. 2.5/4 stars. The problem w/ GOTG2 is that the VFX threaten to swallow the film, which is way too long & too reliant on music cues. Too much family drama. G-team is too split up. Didn't care about Star-Lord & his Dad or Gamora & her sister. Leads not as fun as Rocket, Drax, Yondu or Baby Groot. Again, these films aren't really for me, & I think the target audience (the people who'd appreciate FOUR mid-credit scenes) will eat it up. I will say that I loved @PomKlementieff as Mantis, a great addition to the sequel who had strong chemistry with Drax. More of her, please!Simon Thompson: #GuardiansoftheGalaxyVol2. It was okay; I didn't love it. It lacks a lot of what made the original so tight. Drax and Groot are highlights.
Saw #GotGVol2 I'll just leave you with this pic.twitter.com/nxMSA2xLgF

— KristianHarloff (@KristianHarloff) April 18, 2017