Star Wars Land Video, Photos & Details Tease A Real-Life 'Westworld'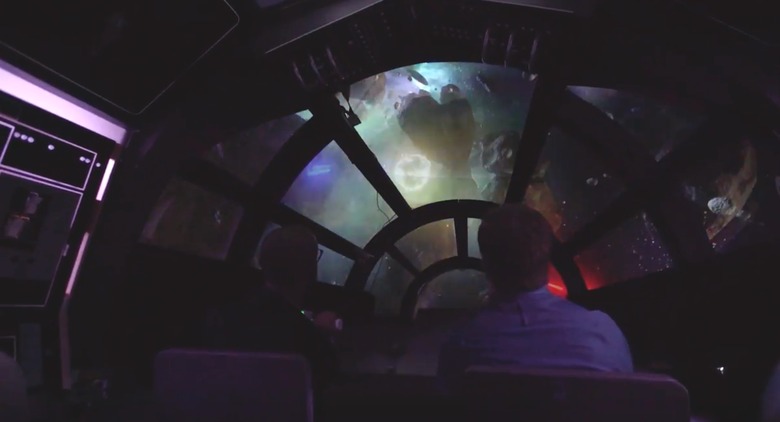 Saturday afternoon at Star Wars Celebration Orlando 2017, Disney Parks and Lucasfilm presented "Star Wars & Disney Parks: A Galaxy In The Making." Announcements were made during the panel including details on a new Star Wars: The Last Jedi segment in Star Tours: The Adventures Continue and a lot of new information and concept art from Star Wars Land. Hit the jump to hyperspace.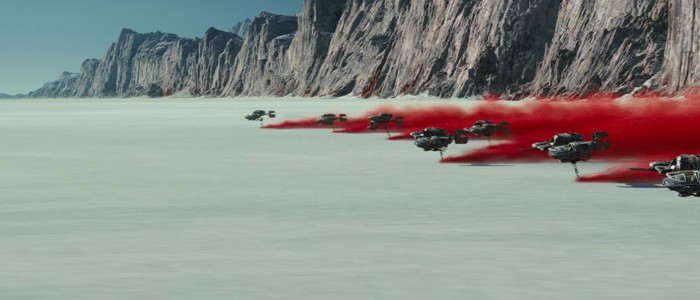 It was announced a while back that a new segment would be added to Star Tours: The Adventures Continue that would be set inside Star Wars: The Last Jedi. During this presentation, they revealed that the sequence would take place on the mineral planet of Crait. The planet was first seen in The Last Jedi trailer (above) with Resistance ships digging into the world's red soil.
Star Wars Land Video
The video above offers a preview of the development of the new Star Wars-themed lands coming to Anahiem and Orlando. Below is more information revealed during the presentation.
You Will Be Able To Create Your Own Stories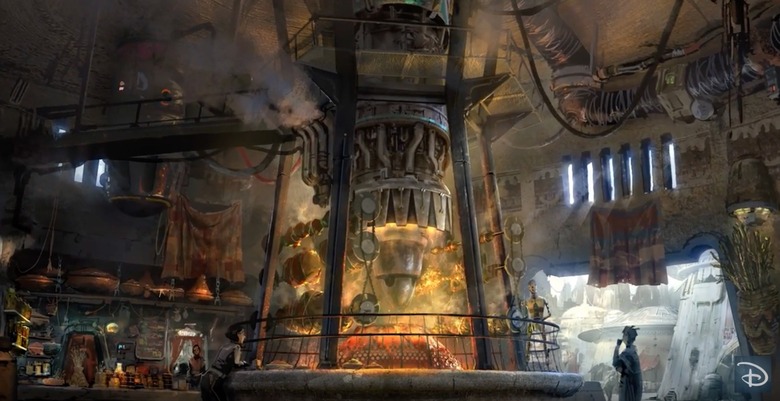 The reason why they didn't decide to recreate a planet or location from the movies so far is that we already know the story of the world and it's characters. The Walt Disney Imagineers wanted to build new Star Wars stories, new Star Wars destinations and put the guests in their own stories.
This is a crossroads in the galaxy, a place where all of us are welcomed as guests and visitors but for those of us wanting to delve deeper, there will be lots of opportunities. You can help the Resistance, be recruited by a bounty hunter or smuggler for a side job, or even join the First Order.
You will be able to explore, feel, smell, and taste the world of Star Wars. You can explore the streets and markets, buy strange meat concoctions, drinks in weird vessels, drink a glass of blue milk. One piece of concept art showed a Podracer engine which has been repurposed in a market restaurant to grill meat.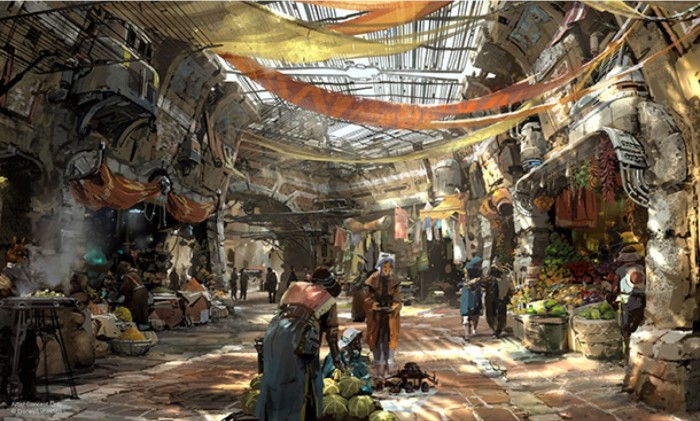 More Information About The World
As you know, the planet setting of the new Star Wars-themed land is a gateway planet located on the outer rim. They revealed some new information about the planet's backstory. The outpost on the edge of wild space has been carefully mapped out into the existing Star Wars galaxy atlas. Star Wars Storygroup member Pablo Hidalgo says they put a lot of thought into figuring out what role the planet plays in the history of the universe. Pablo won't say where on the map it is, just saying its off the beaten path. It's on the map somewhere, and they have examined the ramifications of putting this planet where it is.
It will not be treated as a new location in Star Wars galaxy; it is us who have only just discovered it. The planet will look like it has been there for thousands and thousands of years and their inhabitants have lived for generations. It used to be a vibrant spaceport, but since the advent of hyperspace, commerce has kind of fallen a little bit. They have also confirmed that the new lands will be part of Star Wars canon.
The Characters Of This New World
So now it's filled with people who don't want to be on the mainstream path, like bounty hunters, rogue adventurers looking to crew up, those who don't want to be found; basically, a lot of interesting characters. It has its own underworld that is connected to things and characters that you know and love, but it will also introduce new characters.
There will be a presence of the Resistance and the First Order, but also the inhabitants of the world who may not be of either affiliation. You'll be able to engage with them, interact with them, and go on adventures with them.
We will see some droids we're familiar with, and meet some new droids we've never seen before. Each will have their own unique character and personality. They will be bustling around this world bringing the village to life. They are treating the droids as characters who will be part of this immersive story.
Inspiration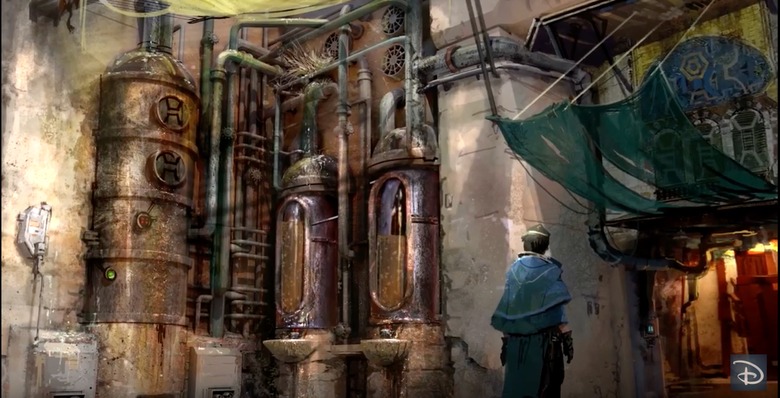 They went back into the archives and explored old Ralph McQuarrie artwork for inspiration for the new land. If it didn't look like Ralph had a hand in it, they threw it out. They took research trips to Istanbul, Morocco and other exotic places around the world for real world inspiration.
Action All Around You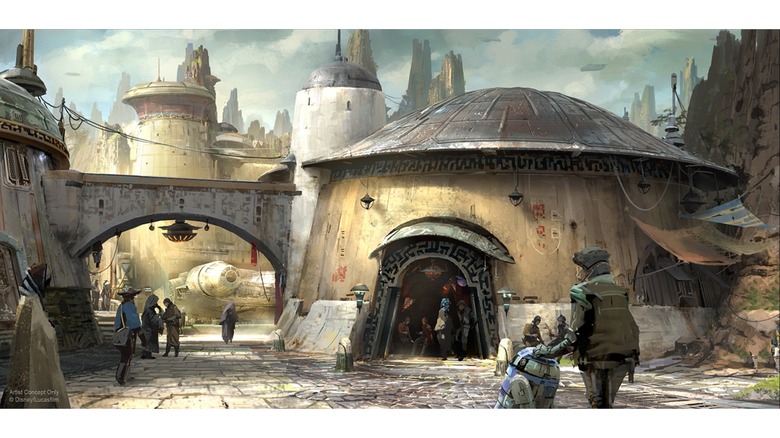 They are working with the stunt designers on the Star Wars films to design the action we'll see in the world. They will be creating action scenes in real time around you. Using rooftops, ladders, it will be around you. You won't be sitting watching it like a typical stunt show, a chase sequence may happen impromptu, or a big fight scene might happen on the roofs above you. We were shown footage of some early stunt choreography which looked very cool.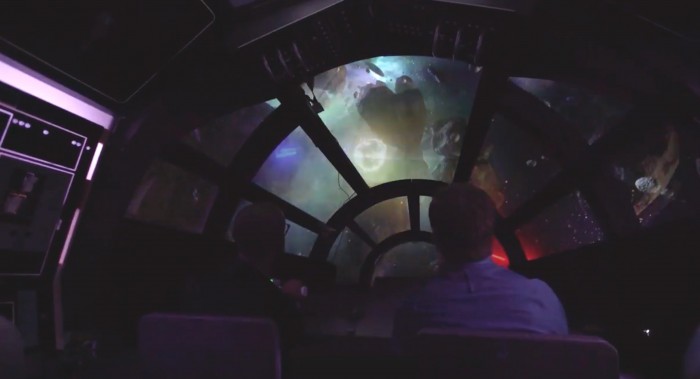 Don't Wreck The Millenium Falcon Or Han Solo Might Track You Down
In the Millenium Falcon ride, you and your flight crew will pilot the ship on an amazing adventure. The movement will be entirely up to you and your flight crew, each member of your team having a different role. You won't be able to crash the ship, thankfully. They say your ship will probably make it to your destination no matter how bad of a pilot you may be, but depending on your skill, it might be more wrecked.
There are consequences to your actions in this world and on the rides. For example, it was mentioned that if you bring a ship back heavily damaged, chances are someone will not be too happy about that. An experience might begin on the Falcon and follow you into the local watering hole. You will be able to build a reputation in the Star Wars universe that will follow you around. Does this mean that Han Solo might track you down somewhere around the village?
Imagine wearing a magic band that tracks all of your decisions in this land which will allow characters around the world to interact with you in a very personalized way. Imagine being a rebel spy on Star Tours and having the Empire looking for you for the rest of your visit. These seem to be the kind of next-level interactions that Disney is working on. But it gets even more interesting – by helping the Resistance or First Order you are helping that faction in the overall game of this world. The actions made by many will evolve the story for that day, and change the experience for everyone.
You'll Ignite A Real Lightsaber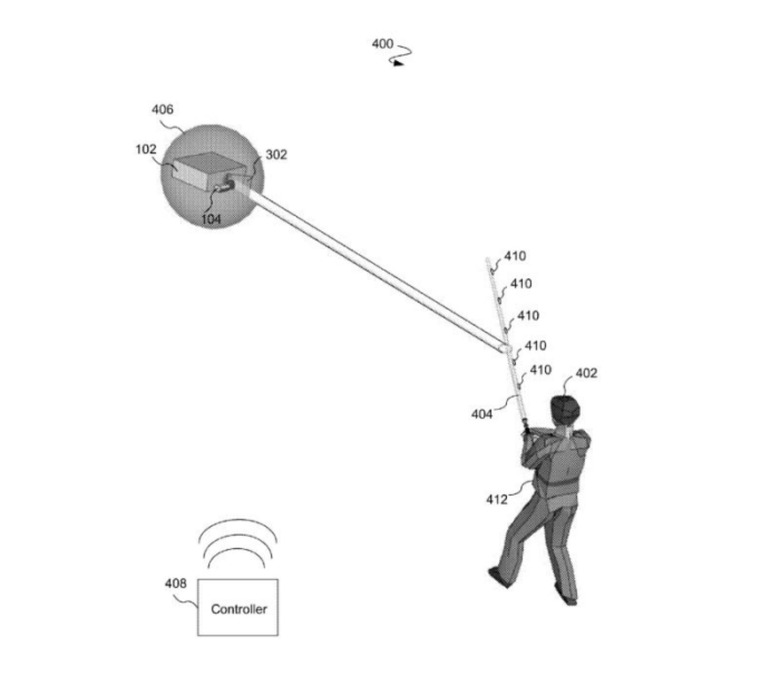 Disney has apparently created real-life lightsabers. They aren't saying exactly what these lightsabers will do but remember that last year we wrote about new patents filed by the mouse house that would allow guests to block blaster fire with a real light up lightsaber.  They wouldn't reveal more but were hyping up an experience like we've never seen before, and we can't wait to see it.
They will show more at D23 Expo in July 2017 as they are further along in the development and construction.