'Orphan Black' Season 5 Trailer: The Clone Club Gathers For The Final Battle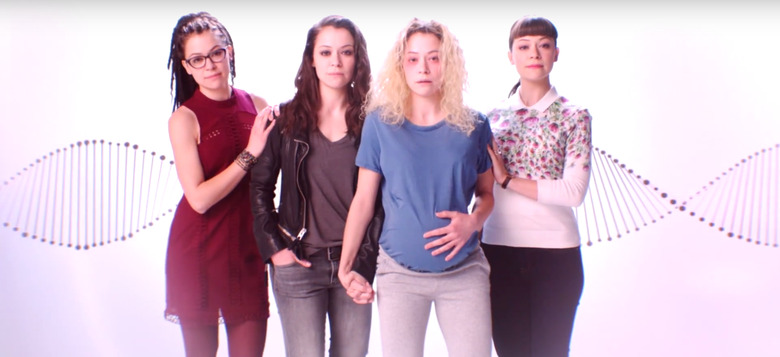 It's the fifth and final season of Orphan Black, and the clones are uniting to fight for agency over their lives and their bodies.
It's been a long, twisted, and bloody road for the clones — who I often forget are all played by the infinitely talented Emmy Award winner Tatiana Maslany — who have for four seasons been fighting against DYAD, the shadowy science corporation that created them, the religious extremist group the Proletheans, and themselves. But in the trailer for season 5, the core four are finally rallying together in a show of unity — even if many of them are still physically separated since we last saw them.
The one-minute trailer doesn't show much of the new season, instead recapping the troubles that have plagued the clones since the beginning of the show, starting with the inciting incident: Beth's suicide.
Sarah, Alison, Cosima and Helena narrate the trailer as scenes of their most dire events flash onscreen — Sarah being chased, Alison's pristine suburban life falling apart, Cosima losing her lover Delphine (or did she?), and Helena being experimented on through her pregnancy. There's no appearance or mention of Rachel, the villainous clone under the employ of DYAD, however. Nor, sadly, does the glamorous airhead Krystal show up, though I doubt with this season's heavy subjects, that she'll want to appear.
"From the very start, they hunted us, controlled us, used us, betrayed us," the clones declare in the trailer, "but they could not break us."
"Now we fight to control our bodies, to love whom we choose. Together we are one," they triumphantly say, gathering together to hold hands in the final shot — a rare moment that we see all the clones on screen due to the technological limits of BBC's television budget. This is why the famous clone dance party with Sarah, Alison, Cosima, Helena and Felix is still one of Orphan Black's best and sweetest scenes — not to mention a seamless technological marvel.
Details for the fifth season are mostly under wraps — which makes sense, considering the show's reliance on twists and cliffhangers — but Deadline has a brief summary of the fifth season's first episode:
"[T]he sister clones struggle to be in contact with each other. Some are reunited, one is captured. The camp near Westmoreland's mansion is called Revival, and it's a self-sustained community for the next generation of clones. Clone Cosima believes that the answers to her sisters' survival and existence reside at Revival, and she can't leave just yet despite the fact that Sarah is looking to rescue her. But chaos abounds on this isle and the question of future-lives hangs by a thread, as another one of Maslany's clones is injured (not Sarah), and another...injected."
Orphan Black's fifth and final season premieres on BBC America on Saturday, June 10 at 10 p.m.