'Guardians Of The Galaxy Vol. 2' May Open To $150 Million — How Does It Stack Up To Other Marvel Movies?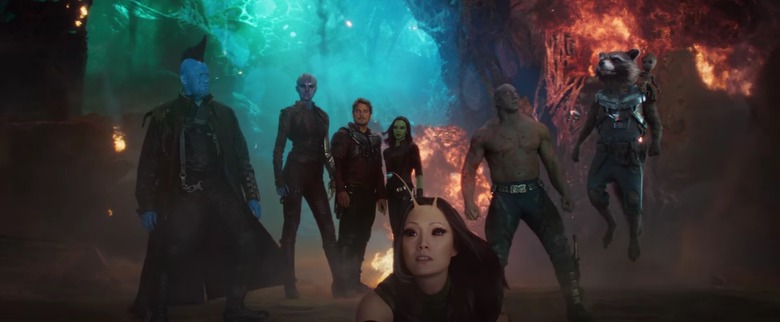 Guardians of the Galaxy was an unexpected smash hit in 2014, raking in over $770 million worldwide and launching the superstardom of Chris Pratt and director James Gunn.
But with expectations higher for the sequel, Guardians of the Galaxy Vol. 2 is set to make even more. But will it have the biggest opening ever for a Marvel movie?
According to Deadline, Marvel's Guardians of the Galaxy Vol. 2 is currently tracking for a $150 million opening weekend, with 88% awareness among audiences. And this could be on the low end for the movie's box office haul — some are estimating that Guardians of the Galaxy Vol. 2 could even surpass Captain America: Civil War's $179.1 million opening from May of last year.
Guardians of the Galaxy Vol. 2 is reportedly testing better than any Marvel movie in history, getting an unprecedented 100 score with preview audiences, according to the Hollywood Reporter. This is compared to Marvel's previous top-scoring titles, Iron Man 3 and Avengers, which both tested in the high 90s.
Marvel, however, does have a very particular way of running test screenings, which they apparently term "friends and families screenings," so take that high test score with a grain of salt.
But still, a projection for $150 million on opening weekend is nothing to sneeze at, especially if it's on the lower end of estimates. How does that compare to the top Marvel Cinematic Universe opening weekends at the box office?
Marvel's The Avengers: $207 million
Avengers: Age of Ultron: $191 million
Captain America: Civil War: $179 million
Captain America: Winter Soldier: $95 million
Guardians of the Galaxy: $94 million
Thor: The Dark World: $85.7 million
Doctor Strange: $85.1 million
Even if it opens to lower estimates of $150 million at the box office, Guardians of the Galaxy Vol.  2 is looking to be the fifth-highest grossing Marvel movie opening. But could it beat the behemoth that is Avengers's opening haul of $207 million (still in first place five years after its release)? Time will tell.
And let's not forget, Guardians of the Galaxy Vol. 2 does have one heavy-hitter that none of the other Marvel movies would be able to measure up to: Baby Groot. This 30-second clip of Baby Groot dancing in the end credits of Guardians of the Galaxy has more than 1 million views, for heaven's sake.
Guardians of the Galaxy is directed by Gunn, and stars Pratt, Zoe Saldana, Dave Bautista, Bradley Cooper, Vin Diesel, Karen Gillan, Michael Rooker and Kurt Russell. It soars into theaters May 5.