'Wizard Of Lies' Trailer: Robert De Niro Looks Like He Finally Cares Again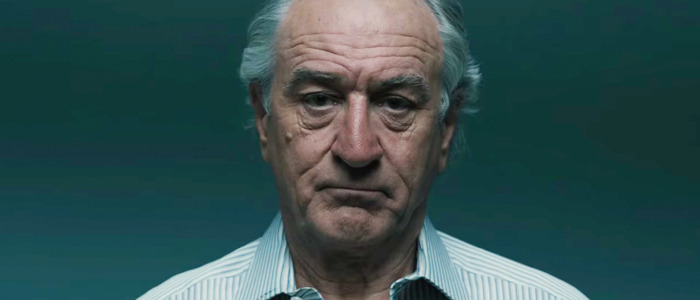 Quick: name the most recent film in which Robert De Niro delivered a dynamite performance. Silver Linings Playbook? Maybe the original Meet the Parents? We don't have to go as far back as 1998's Ronin, do we? Yikes. Answering that question is far tougher than it used to be because De Niro has appeared in a ton of not-so-great films over the past fifteen years, leading some to attempt to pinpoint the exact year he seemed to stopped caring about his career.
But now we have a full trailer for the HBO original film The Wizard of Lies, and it looks like the once-legendary actor may finally be ready to give a shit again.
The Wizard of Lies trailer
I'm one of those people who somehow never really paid attention to the actual details of Bernie Madoff's infamous Ponzi scheme. I just absorbed the gist from headlines and overhearing snippets of news stories over the years, so I'm excited to be entertained and informed by this movie when it airs later this month.
Barry Levinson, who directed De Niro in Sleepers, Wag the Dog, and What Just Happened, is behind the camera on this one, directing from a script by Sam Levinson, John Burnham Schwartz, and Samuel Baum. Michelle Pfeiffer, Hank Azaria, Nathan Darrow, Alessandro Nivola, and Lily Rabe co-star. Hopefully this will be the start of an upward trend for De Niro. His immediate future is looking pretty promising: he's reuniting with David O. Russell for a new TV series and will star in Martin Scorsese's long-gestating mob movie The Irishman for Netflix.
The Wizard of Lies debuts on HBO on May 20, 2017. Here's the official synopsis:
In 2008, stockbroker, investment advisor and financier Bernie Madoff made headlines around the world when he was arrested for perpetrating perhaps the largest financial fraud in U.S. history.
Debuting in May, HBO Films' THE WIZARD OF LIES examines Bernie Madoff's Ponzi scheme – his deception, lies and cover-up, all as the financier's wife and sons are catapulted into a harsh and unrelenting spotlight.
Robert De Niro (Oscar® winner for "Raging Bull" and "The Godfather II") comes to HBO for the first time in the role of family patriarch Bernie Madoff. Also on HBO for the first time, Michelle Pfeiffer (Golden Globe winner for "The Fabulous Baker Boys") stars as Ruth Madoff, Bernie's longtime spouse and unwitting partner during the events that would lead to financial ruin for countless people and institutions, as well as his and his family's destruction.