'The Bad Batch' Trailer: Keanu Reeves And Jason Momoa Go A Little Mad Max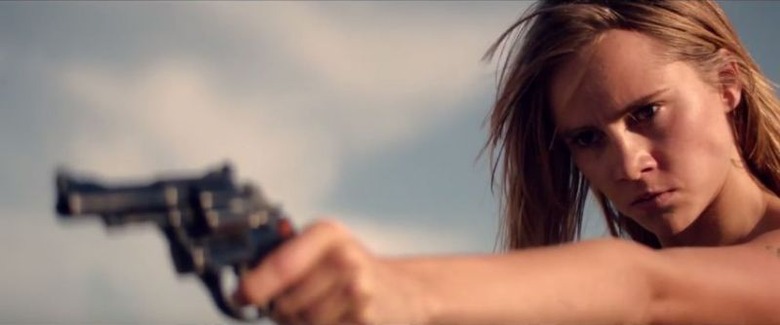 A one-armed protagonist sporting a Magnum revolver and smiley face pants, a pack of hungry cannibals, and a cult leader played by Keanu Reeves are the stars of Ana Lily Amirpour's sophomore effort as a filmmaker, The Bad Batch. Needless to say, for a whole mess of reasons, we're excited about her follow-up to her enchanting debut film, A Girl Walks Home Alone at Night. The second trailer for her funky post-apocalyptic-ish tale has arrived, and it teases one bizarre wasteland we can't wait to visit come June.
Below, watch the new The Bad Batch trailer.
Set in a cruel and unusual desert without law just outside of Texas, Amirpour's original pic follows Arlen (Suki Waterhouse) trying to figure out her new life as a member of The Bad Batch: folks declared unfit for civilized society who are placed in this fenced off piece of land. Trouble quickly finds Arlen, leaving her without an arm and a leg. She'll have to figure out what good and bad exactly means in this world, which also features Jason Momoa and a mute Jim Carrey.
Here's The Batch Batch trailer:
If Keanu Reeves pontificating about "the dream" over some splendid visuals, each one bursting with life, doesn't get you looking forward to The Bad Batch, then what will? It's another great, atmospheric trailer for Amirpour' film, which – not like this is a surprise based on the trailer – was divisive on the festival circuit.
Our former writer and editor Angie Han appreciated and enjoyed Amirpour's distinct vision of the wasteland, which she described as "Venice Beach by way of Mad Max, with some Burning Man and Electric Daisy Carnival thrown in for good measure." Unfortunately, she thinks the movie loses its momentum after an hour:
In the end, we're left with nothing more substantive than a cloud of dust. But if The Bad Batch is an ultimately pointless journey, at least it's one that takes us through some genuinely new territory — one populated by bodybuilding cannibals and soundtracked by '90s-style boomboxes. I'd gladly go along on Amirpour's next ride just to see where she'll take us next.
As the quotes in the trailer indicate, there's also a lot of love out there for The Bad Batch, which was one of my most-anticipated films of last year. After the beauty of A Girl Walks Home Alone at Night, I'm looking forward to seeing whatever Amirpour does next. The Bad Batch looks like the kind of trip you want to take with a crowd, not from the couch.
Here's the synopsis for the film:
The highly anticipated follow-up to Amirpour's acclaimed directorial debut, A GIRL WALKS HOME ALONE AT NIGHT, THE BAD BATCH follows Arlen (Waterhouse) as she is unceremoniously dumped in a Texas wasteland fenced off from civilized society. While trying to orient her unforgiving environment, she is captured by a savage band of cannibals and quickly realizes she'll have to fight her way through her new reality. As Arlen adjusts to life in 'the bad batch' she discovers that being good or bad mostly depends on who you're standing next to.
The Bad Batch opens in theaters June 23.