'Dear White People' Trailer: Justin Simien's Movie Is Now A Netflix Show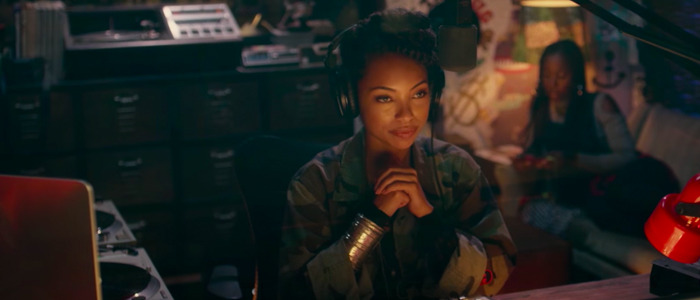 Writer/director Justin Simien's 2014 debut feature film Dear White People announced the arrival of a bold new voice in entertainment. Simien's movie tackled topics like identity and race with humor and wit, and I was thrilled when Netflix announced they'd picked up the concept as a TV series. After a quick date announcement trailer a couple of months ago, they've released the first full trailer for the series – and it looks fantastic.
Dear White People trailer
The trailer retains many of the plot elements from the film. There's a fiery radio host (Logan Browning, taking over for Tessa Thompson as Samantha White) stirring up controversy at a mostly-white Ivy League college, someone expressing the sentiment that President Obama solved racism in America, a black student looking to rise up the political ranks in the college...the list goes on.
I'm excited to see Simien return to such fertile ground for storytelling, since his subject matter has only become more relevant in the past three years. The announcement trailer for this show received over 400,000 thumbs down votes on YouTube from people who don't understand the satirical premise, and Simien himself received no small amount of hate mail. I'd highly recommend reading his revealing, personal blog post about his experience making the movie and the show.
But what does he think about this newest trailer? I reached out to the writer/director on Twitter to ask if he thinks it accurately captures the tone and scope of the show, and here's his reply:
Hey Ben! I think it's probably hard for a storyteller to feel properly summed up by any piece of marketing material. But I think it's cheeky, has some laugh moments and gives a good tease as to what audiences will see come April 28th. As with the film the show blends so many tones you could probably have a trailer for each one.
Blending multiple tones is what he pulled off so well in the movie, and I can't wait to see how he does the same thing over the course of ten episodes of a television series.
Brandon P. Bell and Marque Richardson reprise their roles as Troy and Reggie from the movie, but the rest of the cast is new to this world. Antoinette Robertson replaces Teyonah Parris as Coco, and DeRon Horton takes over for Tyler James Williams as Lionel.
The first full season of Dear White People hits Netflix on April 28, 2017.