'Forces Of Destiny' To Highlight Female 'Star Wars' Heroes In Animation And Toys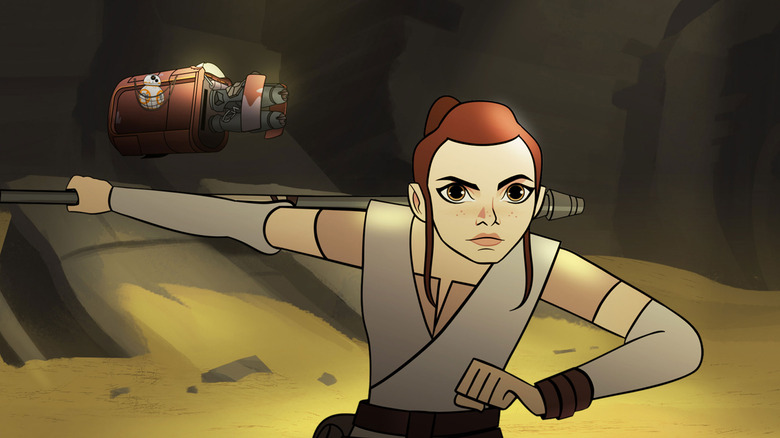 Star Wars will address head-on the #WheresRey controversy, in which action figures of the Star Wars: The Force Awakens main character played by Daisy Ridley were nowhere to be found compared to toys of the male characters.
Not only will girls get action figures of Rey, Leia Organa, Padme Amidala and all their other favorite female heroes in Star Wars, they'll be getting female-driven short-form animation, children's books, and apparel as part of a new multi-part campaign called Star Wars: Forces of Destiny.
Launching this summer, Forces of Destiny aims to expand the sci-fi saga's audience in eight new 2D animated shorts that highlight its growing ensemble of female characters. The central figures in the shorts, which will debut on Disney's YouTube in July, are Princess Leia from the original trilogy era, Padmé Amidala from the prequels, Rey from The Force Awakens, Rogue One's Jyn Erso, and three standouts from the animated Rebels series: the Mandalorian warrior Sabine Wren, Force-sensitive Jedi Ahsoka Tano, and Twi'lek pilot Hera Syndulla.
The Animation
"Star Wars: Forces of Destiny is for anyone who has been inspired by Leia's heroism, Rey's courage, or Ahsoka's tenacity," said Lucasfilm President Kathleen Kennedy in a release announcing Forces of Destiny.
The animated shorts will all be canonical, with some of the heroes appearing in crossover shorts with each other, though some of them are separated by different timelines. Some of the mini adventures include Rey saving BB-8 on Jakku and Leia rescuing Chewbacca from a Wampa (the big, furry monster seen in The Empire Strikes Back) on Hoth .
Carrie Beck, an executive producer of the shorts and a member of the Lucasfilm story group braintrust, told Entertainment Weekly that this is more than just a marketing opportunity – Forces of Destiny is a chance to expand upon characters who can carry solo adventures on their shoulders:
One of the opportunities here was to tell the stories in between the larger moments and imagine some of the ways our characters have crossed. It's all part of the larger swath of storytelling.
Many of the original actresses will be returning to voice their beloved characters, with Daisy Ridley playing desert scavenger Rey in stories set within the arc of The Force Awakens and Felicity Jones resurrecting Jyn Erso for adventures that pre-date the events of Rogue One.
Rebels voice actresses Tiya Sircar and Ashley Eckstein will voice heroic bounty hunter Sabine Wren and Ahsoka Tano respectively, while Vanessa Marshall will play the swaggering Hera Syndulla. Lupita Nyong'o will also be returning to voice orange alien sage Maz Kanata from The Force Awakens. With the passing of Carrie Fisher, Shelby Young will voice Princess Leia, and Catherine Taber will be taking over for Natalie Portman in the role of Padmé Amidala, reprising her work in The Clone Wars.
Kennedy praised the voice actresses, who in the video preview of Forces of Destiny, seemed proud to reprise their roles for the small screen for a campaign aimed primarily at girls:
We're thrilled that so many of the original actors are reprising their roles in these shorts which capture the small moments and everyday decisions that shape who these characters are. It is a fun new way for people to experience Star Wars.
The Toys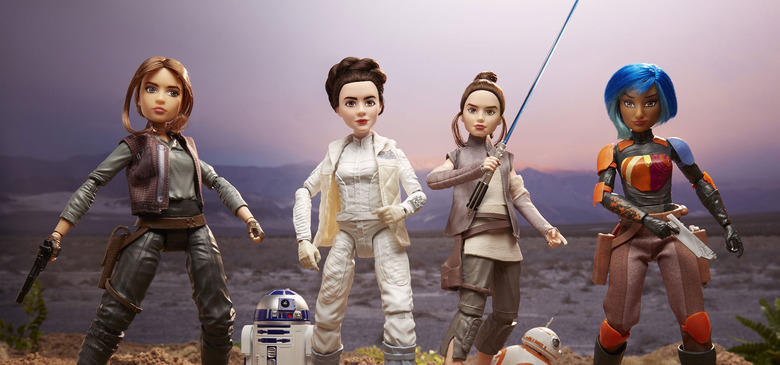 Most importantly, Forces of Destiny will add to the ongoing conversation about female representation by releasing a new line of Hasbro "Adventure Figure" toys that aim to blend the qualities of traditional dolls (11-inch height, rooted hair, changeable outfits) with old-school action figures (weapon accessories, battle attacks, swingable lightsaber). They'll also come packaged with their own sidekicks — Rey is joined by BB-8 while Hoth Base Leia comes with R2-D2.
"From Princess Leia to Sabine Wren, Star Wars heroines are unique, and we wanted to represent that in the product line for Star Wars Forces of Destiny," said Jimmy Pitaro, Chairman, Disney Consumer Products and Interactive Media.
Most of the single figures are priced at $19.99, but some come in more elaborate playsets, retailing for $24.99.
Disney and Hasbro met a storm of criticism in December 2015, when holiday toy releases of Force Awakens character revealed a lack of Rey action figures, causing #WheresRey to trend on Twitter and for director J.J. Abrams to call the situation "preposterous and wrong." Forces of Destiny is meant to right those wrongs, and bring young girls into a fandom in which they may have previously felt unwelcome — while still telling universal stories that appeal to all ages and genders.
Star Wars  Celebration in Orlando will give fans a sneak peak of Star Wars Forces of Destiny during the "Heroines of Star Wars" panel on April 14.