'Beatriz At Dinner' Trailer: Miguel Arteta, Mike White, And Salma Hayek Go To Dinner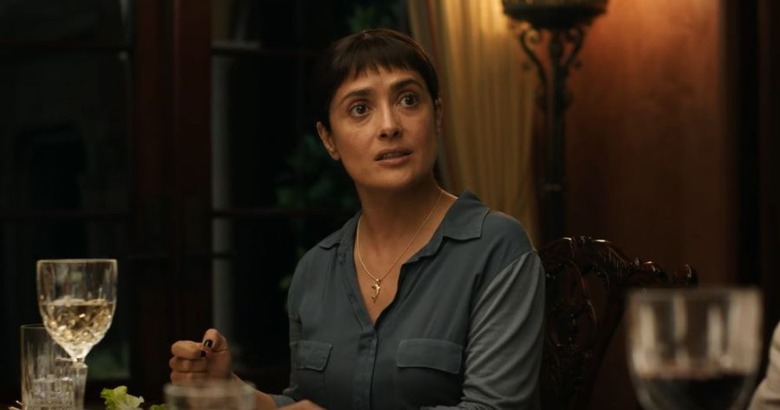 Director Miguel Arteta and screenwriter Mike White sounds like a dynamite combo. The Good Girl director and Enlightened creator linked up for Beatriz at the Dinner, which stars Salma Hayek and Jon Lithgow. Arteta and White tend to make heartfelt and sincere comedies, so their sensibilities should align nicely with Beatriz at Dinner.
Below, watch the Beatriz at Dinner trailer.
Arteta, who directed four episodes of Enlightened, last made Alexander and the Terrible, Horrible, No Good, Very Bad Day, which didn't quite have the appeal of his previous films, such as Cedar Rapids and Youth in Revolt. He knows how to make an audience cringe, laugh, and maybe even tear up a little. Arteta's latest film looks to have the cringe part down pat.
The comedy stars Hayek as Beatriz, who isn't surrounded by the best or most enlightened company during an insufferable dinner party. The health practitioner and a billionaire philanthropist's (Lithgow) world views clash over the course of what appears to be an 83-minute long cringe fest.
Here's the trailer for Beatriz at Dinner, which co-stars Chloë Sevigny, Connie Britton, and Transparent stars Jay Duplass and Amy Landecker.
Most of the reviews out of the Sundance Film Festival were positive, with plenty of praise for Hayek. Our own Angie Han thought it was distancing but relevant:
I couldn't quite get into the rhythm of Beatriz at Dinner, which mixes drama, satire, and sociopolitical commentary. But it's hard to ignore how depressingly relevant it is. Salma Hayek plays an odd but idealistic healer who grows increasingly agitated over the course of a dinner party, with particular fury directed at a Trumpish developer played by John Lithgow.
Even Lithgow's smile is menacing as the billionaire. He's usually a marvel as villains, but then again, this national treasure rarely leaves us unimpressed. The trailer already leaves you feeling sorry for Beatriz, stuck at the dinner party from hell. Whether she'll manage to heal a single one of the fellow guests could make for some good laughs and tension.
Here's the synopsis:
Beatriz (Salma Hayek), an immigrant from a poor town in Mexico, has drawn on her innate kindness to build a career as a spiritual health practitioner in Los Angeles. Doug Strutt (John Lithgow) is a cutthroat, self-satisfied billionaire real estate developer. When these two opposites meet at a dinner party, their worlds collide and neither will ever be the same.
Beatriz at Dinner opens in theaters June 9.