'6 Days' Trailer: Jamie Bell Takes On Terrorists In UK Iranian Hostage Crisis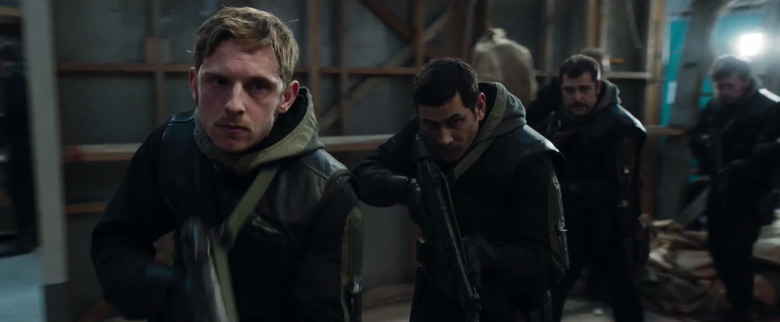 In 1980, six armed men stormed the Iranian Embassy in London, taking 26 people hostage at the diplomatic building in south Kensington. The SAS raid to rescue the hostages was broadcast live on British television, and became one of the most well-known sieges in recent British history. Now, the story will be shared with the rest of the world in the film adaptation 6 Days.
The film stars Jamie Bell as the leader of the group of special forces soldiers who breached the embassy and put an end to the siege, and his reputation seems to precede him among the attacking terrorists. In the6 Days trailer, they warn: "He's got a heart of a lion, and the brains of a judge." A dramatic statement for what looks to be a thrilling dramatization of the true-life siege.
Shot on location in the West London area near the actual embassy, 6 Days follows three perspectives throughout the siege — that of hostage negotiatior Max Vernon (Mark Strong), BBC news reporter Kate Adie (Abbie Cornish) and SAS assault team leader Rusty Firmin (Bell).
The trailer is really just a short teaser, establishing the setting of 1980s London, which was emptier than usual, with many residents vacationing out of the city. Six terrorists take advantage of the diminished crowds to invade the Iranian embassy and take hostages, which leads to a tense stand-off between the terrorists and the British government, who want to show "the world and the British people to see how this government deals with terrorists."
We get lingering shots of Bell, Strong and Cornish in their separate POV's, but the rest of the trailer only depicts brief cuts of several scenes, before ending on the SAS soldiers setting off an explosion.
Here's the official synopsis of the movie:
In April 1980, six armed gunmen stormed the Iranian Embassy in Princes Gate, London, taking 26 people inside hostage. Over the next six days a tense standoff took place, all the while a group of highly trained soldiers from the SAS prepared for a raid, the likes of which the world had never seen before.
Directed by Toa Fraser, who recently directed the Maori action film The Dead Lands, 6 Days also stars Emun Elliott, Nicholas Boulton, Martin Shaw, and Tim Downie. The screenplay is written by Glenn Standring, who researched the siege extensively through interviews with various individuals who played a key part in the days leading up to, during, and after the Embassy siege.
6 Days is set to open in the U.K. on August 4. No U.S. release date has been announced yet.