'Take Me' Trailer: Taylor Schilling Tries Kidnapping Therapy In Pat Healy's Directorial Debut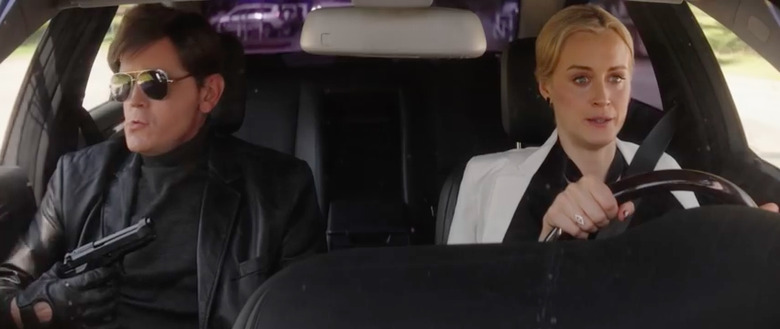 In his feature directorial debut, actor Pat Healy (Cheap Thrills) offers people the chance to purchase a simulated experience of a high-stakes abduction. Healy isn't playing a real criminal, but his new fake kidnapee, played by Taylor Schilling (Orange is the New Black), may turn into one. Ray Moody's (Healy) alternative therapy, like most too good to be true jobs in crime movies, quickly turns sour and attracts some heat.
Below, watch the Take Me trailer.
Healy, who once directed a short film featuring himself and Michael Shannon, has starred in several standout movies over the past few years, including Cheap Thrills, The Innkeepers, Starry Eyes, and, in which he gave one unsettling performance, Compliance. Previously, we saw him in The Assassination of Jesse James by the Coward Robert Ford, Magnolia, and, albeit it very briefly with a gun pointed to the back of his head courtesy of Mel Gibson, Payback.
This time, it's Healy holding the gun, a pellet gun, in the trailer for the latest Duplass Brothers Production:
Take Me Trailer
A new, very L.A. approach to therapy. According to the Kidnap Solutions spiffy website, "the fully-immersive exposure therapy has been known to cure" the following: Alcoholism, Drug Addiction, Overeating, Addiction to Nicotine, Sex and/or Love Addiction, and Bad Habits. Here's the company's poorly produced commercial to prove they're legit (via Bloody Disgusting):
Healy has been working as a screenwriter for many years, having written some unproduced scripts and a few episodes of HBO's In Treatment. Mike Makowsky, not Healy, wrote Take Me, but I'm looking forward to seeing what sort of vision Healy has a director. The trailer for his debut has a quick wit with hints of darkness.
Here's the synopsis for Healy's film:
Ray Moody (Pat Healy) is a fledgling entrepreneur, trying to get his company off the ground in Los Angeles. His business: the niche Kidnap Solutions, LLC, specializing in abductions that provide alternative therapy for his clients. When a mysterious call contracts him for a weekend kidnapping with a handsome payday at the end, Ray jumps at the opportunity. But the job, and his target—business consultant Anna St. Blair (Orange Is the New Black's Taylor Schilling)—may not be all that they seem. TAKE ME, which threads the needle between crime thriller and slapstick farce, is the feature directorial debut of Healy, who's appeared in more than 40 films including Compliance, Cheap Thrills, The Assassination of Jesse James by the Coward Robert Ford and Magnolia.
Take Me arrives on Netflix May 5.