Netflix Will Release Noah Baumbach's Ben Stiller-Led 'The Meyerowitz Stories'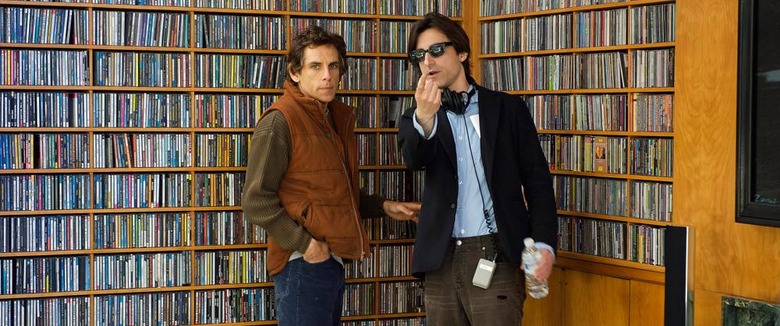 Noah Baumbach is on a roll. Over the last five years, he's treated us with Frances Ha, While We're Young, Mistress America, and the greatly revealing De Palma doc, which he co-directed with Jake Paltrow. That's one delightful, albeit sometimes hilariously awkward and cringe-inducing, movie after the other.
His next film, The Meyerowitz Stories, stars Ben Stiller and Adam Sandler and it will officially  arrive on Netflix this year.
According to Deadline, Baumbach's latest will open in select theaters and on Netflix later this year, after maybe making its debut at the Cannes Film Festival. Sandler and Stiller play brothers a part of an estranged family. They're reunited when their father, an artist (Dustin Hoffman), is having a career retrospective.
Deadline writes the story is about "adult siblings contending with the influence of their aging father." The sons' mother, presumably, is played by Emma Thompson, who's described her character, without mincing words, as "a dreadful, passive-aggressive alcoholic."
The comedy-drama is a great pickup for Netflix. In a statement, Ted Sarandos, Netflix Chief Content Officer, called Baumbach's latest a moving film:
Noah Baumbach is an important voice in American filmmaking, and his films are always highly anticipated around the world. Noah is among the filmmakers that we were eager to work with, and I know that film enthusiasts everywhere will be as moved by this film as we were. We're thrilled to be the avenue in which global audiences will be able to see the film.
Like many of Baumbach's recent movies, a big deal wasn't made out of The Meyerowitz Stories starting production. The film was brought to all our attention after Baumbach began filming in New York, under the title Yen Din Ka Kissa [Hindi for "the story of the day"].
Scott Rudin, who produced and had a cameo in While We're Young, is behind Baumbach's latest, which co-stars Candice Bergen and the wonderful writer and director behind Maggie's Plan and Private Lives of Pippa Lee, Rebecca Miller. Miller has a few acting credits, but this is maybe her biggest role to date as an actor. If Miller is as talented as an actress as she is a filmmaker, then we should expect a great performance from her.
Netflix acquiring Baumbach's new film comes shortly after they ordered four more Adam Sandler movies. The actor's Netflix comedies are apparently quite popular with consumers, so maybe when The Meyerowitz Stories hits Netflix, perhaps a few of those subscribers, who maybe don't tend to run out and see Baumbach's comedies, will be curious to check it out for Sandler.