'Orange Is The New Black' Season 5 Clip And Photos: Daya's Got A Gun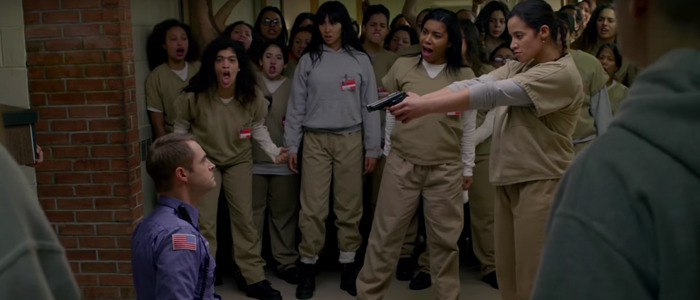 The most recent season of Netflix's Orange is the New Black wrapped up with the biggest cliffhanger in the show's history, and the streaming service has just unveiled a few new photos and a first-look clip that teases what we can expect from the upcoming fifth season. I don't want to spoil anything for those who still haven't caught up, so join me below and we'll protect this conversation from any wandering, spoiler-phobic eyes.
Orange is the New Black Season 5 clip
That's new mom Daya (Dascha Polanco) with the gun, which she procured during a riot following the death of Poussey (Samira Wiley, who moved on to Hulu's The Handmaid's Tale). Daya has been one of the show's strong moral centers for years, which is what makes this standoff so intriguing. Will she pull the trigger? It certainly sounds like it from the ending of this clip, but that could just be a case of clever editing to get our minds racing about the potential fallout. Maybe she gets bumped by one of the bloodthirsty inmates, the gun goes off, and the new season deals with Daya grappling with if she pulled the trigger on purpose or if it was just an accident.
Here are the three first-look photos, which aren't nearly as revealing and essentially just serve to remind us that these characters are still around:
Deadline reports that season 5 is going to shake up the show's structure because it "takes place in real time and over the course of just three days." That sounds like a big departure from the previous format, which included Lost-style flashbacks in each episode that provided insight into characters' lives before they entered Litchfield Penitentiary. For reference, Piper Chapman (Taylor Schilling), the ostensible lead character of the show, was sentenced to serve 15 months back when she first entered the prison in the 2013 pilot. It's sort of crazy to look back on all of the insanity that's happened in this show and remember that it's all supposed to be taking place over a little more than a year.
In February of 2016, Orange is the New Black became the first Netflix original series to earn a three-season renewal, with the streaming service settling in for a fifth, sixth, and seventh season. The best part? Showrunner Jenji Kohan is remaining on board through at least season seven, which should ease any potential worry about the show experiencing a drop in quality as it becomes a veteran in the Peak TV era.
Every episode of Orange is the New Black season 5 hits Netflix on June 9, 2017.