Gillian Anderson And David Duchovny Reunite For 'X-Files' Audiobook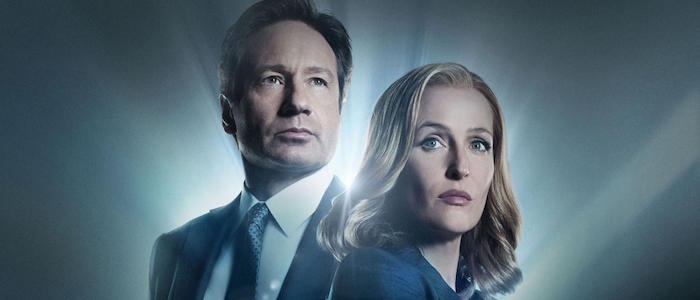 For the X-Files fans who still want to believe in an infinite well of supernatural stories, you're in luck.
David Duchovny and Gillian Anderson will be reprising the roles of Fox Mulder and Dana Scully in a new audio production titled The X-Files: Cold Cases. The audiobook is based on Joe Harris' comic series, taking place after the events of the 2008 film The X-Files: I Want to Believe and provide more details on the events between the movie and Fox's 2016 miniseries revival.
The "cold cases" in the title refer to the unsolved X-Files cases that have been accessed by an unknown group during an FBI database breach, according to Variety. Mulder and Scully are forced to come out of hiding and face a growing conspiracy involving — what else — the U.S. government and otherworldly forces, as old allies and enemies begin to re-emerge from the woodwork.
In addition to Duchovny and Anderson, the audiobook will bring back X-Files characters Assistant Director Walter Skinner (Mitch Pileggi), the Cigarette-Smoking Man (William B. Davis), the Lone Gunmen (Tom Braidwood), Richard "Ringo" Langly (Dean Haglund) and John Fitzgerald Byers (Bruce Harwood).
In a short video teaser, Duchovny, Anderson and the returning cast members promote the audiobook and remark how it's "comfortable falling back" into the characters.
The audiobook will be released by Audible Studios, and X-Files creator Chris Carter will serve as executive producer and creative director. Dirk Maggs, who previously worked on the radio version of  The Hitchhiker's Guide to the Galaxy and an audio drama adaptation of Alien: Out of the Shadows, adapted the novels to audio format.
This new audiobook is a good way to fill up our time while we wait for a follow-up to 2016's six-episode 10th season. There has been no concrete confirmation of another season, though Fox is reportedly aiming to bring back the beloved supernatural series in 2018.
The uncertainty may be due to Duchovny and Anderson's schedules — Anderson has several ongoing projects under her belt, starring in The Fall and American Gods, while Duchovny is appearing in the Twin Peaks revival — or the lukewarm reception of the Fox limited series revival, which was hindered by nostalgia fatigue. I was underwhelmed by the episodes, which made the right choice to lean more heavily on monster-of-the-week episodes instead of the dense show mythology, but still seemed to be lacking the spark that made the show so fresh when it first aired in the '90s. I will look forward to a sequel however, even if it's just because the last episode ended on a pretty unsatisfying cliffhanger.
In the meantime, this new audiobook arrives July 18 and is available for preorder.