'Jessica Jones' Begins Filming Season 2, Adds New Character [Updated]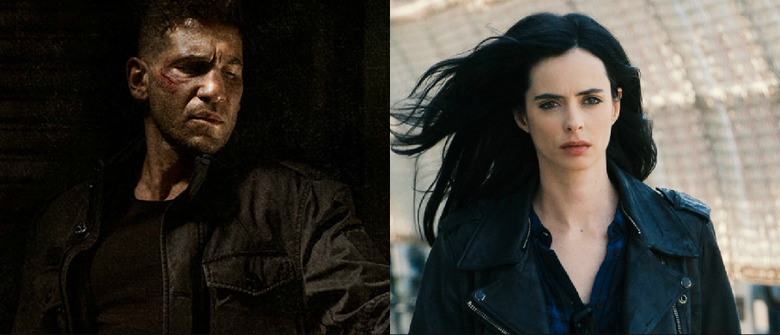 UPDATE: The Punisher poster included below is fan art and not official We have updated the text. However, we'll say this much – it's good enough that it fooled us and a few other sites. Props to the creator, jeers to us.
With all the buzz around Iron Fist and the first first footage of the Defenders team-up series, it's easy to forget that the other Marvel Netflix shows are still developing their own worlds and stories.
But with the much-anticipated first season of The Punisher wrapping, and the second season of Jessica Jones just starting, there will be plenty of news and tidbits to keep you Marvel fans afloat until The Defenders hits screens in August.
Punisher's Bullet-Riddled Poster
Jon Bernthal's stoic and suffering antihero Frank Castle was unquestionably the best part of the second season of Daredevil, becoming so popular that he got his own solo Netflix series. However, Castle's outfits were fairly generic and tame throughout his run on Daredevil, avoiding the iconic imagery of the elongated skill that the Punisher dons on his shirt in the comic books. We only got a glimpse of that imagery in Castle's final scene, in which he walks off the screen with a vague impression of a white skull on his black shirt.
While this is only a fan poster, it's an impressive piece of work that utilizes this familiar imagery quite well: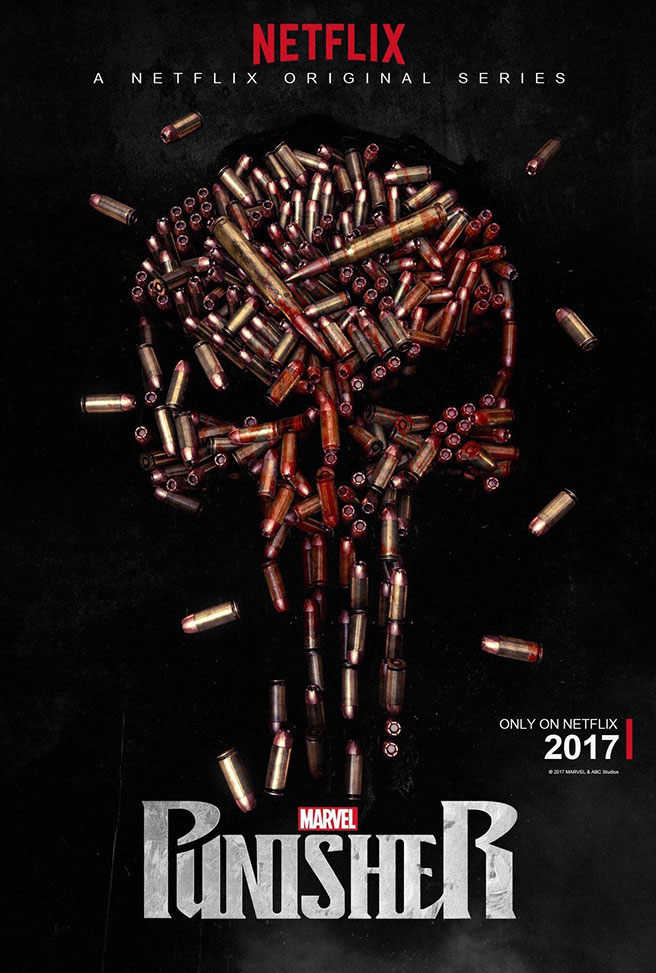 Frank Castle's very nature as a homicidal vigilante begs for a violent TV show interpretation, though we've yet to see whether Punisher will be more than "More Violent Daredevil 2.0." As magnetic as Bernthal is in the role, his and Charlie Cox's Daredevil have such similar viewpoints and tactics (so much so that that they base an entire Daredevil episode upon their debating their separate philosophies), that it will be difficult to differentiate the Punisher series apart from "more blood and violence."
Hopefully, showrunner Steve Lightfoot will bring something fresh and unique to this show. We'll know for sure when it's released, presumably after The Defenders in August.
Jessica Jones Starts Filming Season 2, Casts Janet McTeer in Mystery Role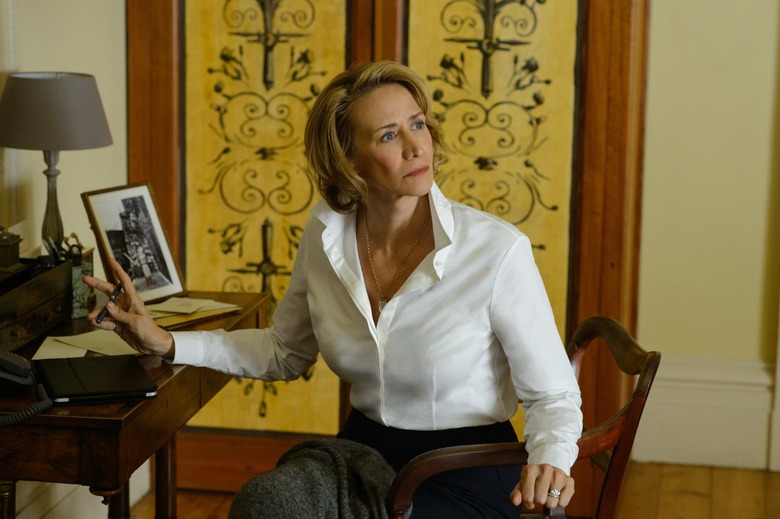 Speaking of Defenders, one of its members has started filming the second season of her solo show. Jessica Jones has started production on season 2 after its critically acclaimed first season, which deftly used superhero storytelling to explore issues like PTSD and sexual assault. CBR.com reports thatthat filming has begun at Broadway and West 101st Street, the location used for the exterior of Jessica's (Krysten Ritter) apartment.
With second season of the show adapting Brian Michael Bendis' brilliant series Alias officially shooting, we have a whole new set of questions. Without Jessica's most famous villain, Kilgrave, who could be her new Big Bad?
One bit of news that could add to that swirl of theories on who could be the next nemesis: Janet McTeer has been cast in a mystery role as "an undisclosed character who will have an enormous impact on Jessica's life," according to Entertainment Weekly. An English actress known primarily for her role as Queen Elizabeth's mother in The White Queen, it's not known whether McTeer will play a hero, villain or wary ally, but Marvel TV chief Jeph Loeb has said McTeer's character will fit in well with the thoughtful, noir vibe of Jessica Jones:
"We are so fortunate to have an actress of Janet's talent and stature join what is already an incredible cast. Our second season of Marvel's Jessica Jones aims to capture what audiences loved about our first, and Janet will be key to achieving that goal."
McTeer's casting adds credence to the theories that Jessica could face a female villain in the form of Daredevil villain Typhoid Mary — which wouldn't be shocking considering Kilgrave was originally a B-tier Daredevil villain repurposed for Alias. With a lineup of all-female directors this season, a female villain would be a great addition.
Premiere dates for the next seasons of Jessica Jones and The Punisher have not yet been revealed.