'Risk' Trailer: Showtime Debuts Julian Assange And WikiLeaks Documentary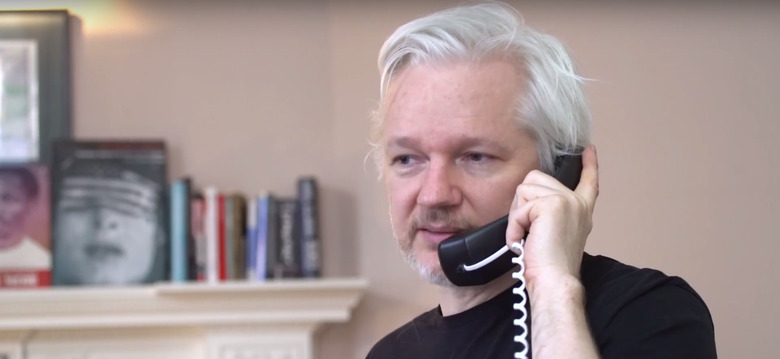 Showtime has picked up Risk, a documentary about Julian Assange and WikiLeaks by Citizenfour director Laura Poitras that debuted at Cannes last year.
The news of Showtime debuting Risk came along with a trailer teasing the documentary's connection to the 2016 elections and the hacked Democratic National Committee emails — a facet that Poitras has added to Risk's plot even after the documentary was initially shown to audiences.
Laura Poitras, who won an Academy Award for her 2014 Edward Snowden documentary Citizenfour, was given "unprecedented access" to Julian Assange, the infamous founder of WikiLeaks, for six years.
But Poitras still finds herself updating her documentary with aspects relating to Hillary Clinton, the 2016 presidential campaign, Russia's involvement in the election results, and the hacking of Democratic National Committee emails. Even after it was initially shown to audiences at Cannes last year, Risk is a documentary in progress, growing more timely by the second as probes into Russia's interference in the 2016 election are ongoing.
"It is an exciting time to be working with SHOWTIME and NEON," Poitras said in a press release. "Both organizations are thinking outside the box about how to bring complex stories to a wide audience. I am thrilled to team up with them on RISK."
Here's the official synopsis of Risk provided below:
"Filmed over six years including through the 2016 presidential election and up to the present moment, RISK takes viewers closer than they have ever been before to Julian Assange and those who surround him. With unprecedented access, Poitras give us the WikiLeaks story from the inside, allowing viewers to understand our current era of massive leaks, headline-grabbing news, and the revolutionary impact of the internet on global politics. RISK is a portrait of power, principles, betrayal, and sacrifice when the stakes could not be any higher. It is a first-person geopolitical thriller told from the perspective of a filmmaker immersed in the worlds of state surveillance and the cypherpunk movement. RISK confirms Poitras' directorial ability to record history as it unfolds on camera, and craft narratives at the highest level."
The trailer is an intriguing look into Assange, who is a highly controversial figure, especially after WikiLeaks' release of illegally hacked emails arguably played a huge part in the outcome of the election. It's unclear whether the documentary will take a sympathetic or harsh view toward Assange, who seems equal parts malicious and righteous in the trailer.
This wouldn't be the first time Assange is the subject of a film, having been played by Benedict Cumberbatch in 2013's The Fifth Estate, a dramatization of the founding of WikiLeaks.
Showtime is partnering with Neon for a theatrical run of Risk followed by a TV premiere in the summer.