Arnold Schwarzenegger's 'The Legend Of Conan' May Not Happen After All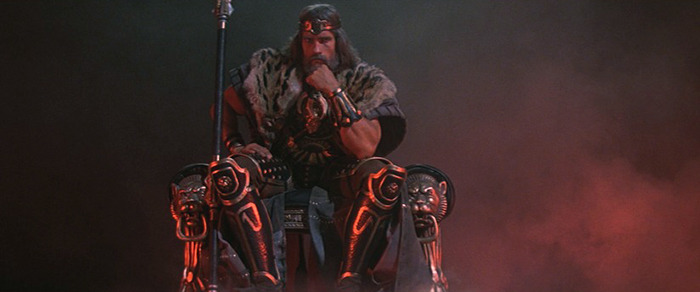 Do you hear that sound? That's the lamentation of Conan fans across the world after reading this headline. After spending years in development, it sounds like Arnold Schwarzenegger's long-brewing sequel The Legend of Conan is finally dead at Universal. But Arnold, ever the optimist, seems to still be holding on to some tiny sliver of hope.
Entertainment Weekly caught up with producer Chris Morgan and asked if there were any updates on The Legend of Conan, which would have picked up with Arnold as an older version of Robert E. Howard's comic character. Morgan had some bad news:
Not so much. That's kind of a longer story. At the end of the day, the studio decided that they weren't gonna make that. I gotta say, it's honestly a heartbreak. I love that first movie so much, so much, it's one of my favorite movies. We had Will Beall do a draft on [the Legend of Conan script]. He killed it. Our take was Conan, 30 years later, a story like the Clint Eastwood Unforgiven. It was so awesome. Ultimately, the budget was big, the studio was not really sure of the title, and the relevance in the marketplace. They ended up letting it go. I think they're gonna look to do a TV show or something with it. But just to be associated with it, pitch it to Arnold, have him get so excited, there was a moment of magic for me, personally [laughs]. You never know, down the road we may revisit!
That sounds pretty definitive, doesn't it? As much as I'd like to see Arnold put an older, Eastwood-style spin on one of the characters that jump-started his career, I have to admit that the idea of a script from Will Beall isn't super appealing. He wrote a draft of James Wan's Aquaman, but the only produced feature film credit currently on his resume is 2013's Gangster Squad, which was...not great. So I'm guessing Schwarzenegger may have dodged a bullet here.
Then again, writer Erik Davis says even though Universal is apparently done with the movie, that doesn't mean Arnold is ready to call it quits.
Again, Arnold told me this week that they're still working on CONAN. I wouldn't say it's dead yet. https://t.co/Owhoak5b5R

— Erik Davis (@ErikDavis) April 6, 2017
I imagine the producer would know the situation better than the actor, but even if Arnold's correct, the rights to the property would probably need to change hands for another studio to take ownership here. So even if it's not completely dead right now, it sounds like it's definitely flatlined and there's little chance of resuscitation.